PSYCHE LIKEE PRICING DEBATE CONTINUES
The Flovatar DAO had its first town hall meeting on Monday to discuss recent Dust pricing proposals and it was full of good information and spirited debate. It was great to see a community come together to have an intelligent discussion about how to move forward with a critical part of the Flovatar ecosystem. If you missed the meeting or everything else DAO related to this point, time to catch you up on the latest.
The first topic the DAO is tasked with deals with setting prices for some of the Dust utilities. Luca posted a proposal in the DAO discussion last week for everyone to look through. It dealt with pricing for things such as naming a flovatar, writing its' story, and placing it around the world. The other part dealt with pricing to mint a Psyche Likee, the upcoming companion for your flovatar. While most people seemed to agree on the pricing of the first few utilities, there was a division about the pricing of these future furry friends. This led to the town hall being called to order.
If you missed the meeting on Monday, you're in luck. The entire meeting was recorded and is posted for everyone to listen to in order to provide total transparency about what is being discussed. The recording can be found in the Flovatar Discord announcement channel.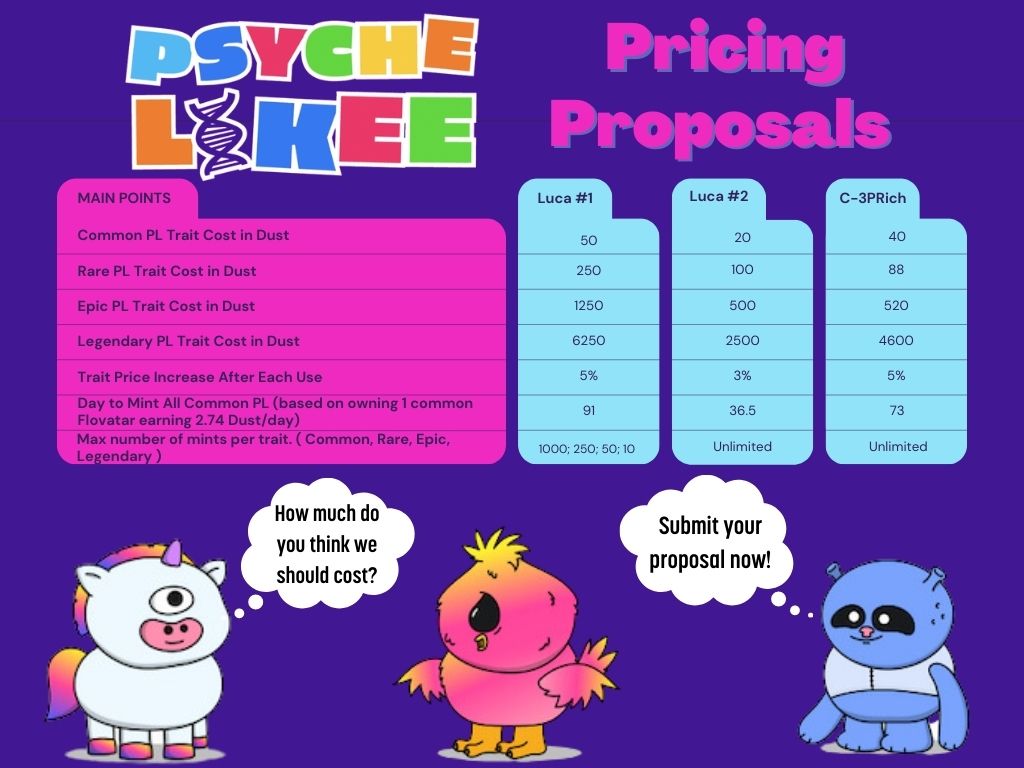 The main point that came out of the meeting was that the DAO needs more time to properly discuss the Psyche Likee pricing. Everyone wants to do things as right as possible rather than rush out a less than desirable product. Luca assigned us homework. Yeah, that's right. Did you think being an owner and part of a DAO would be easy? Anyone who has an idea for the pricing debate can submit a proposal for the community to evaluate. All of the proposals can be submitted for now to the Team to be posted in the DAO discussion channel.
Lucky for you all, we have some teacher's pets in the community who have already submitted a proposal. In addition to C-3PFLO and RichRaz's idea, Luca has come back with another one of his own to go with the original. Check out a few of the highlights. The full proposals are found in the Discord channel.
That's your week in the DAO review for now. Remember that anyone working on a proposal needs to submit it by Monday, March 27th at the latest so the vote can take place and we can get this token moving forward. Stay tuned for more information as it becomes available. If anything breaks, F.U.D News will post an update so keep checking back to stay up to date.
HACKATHON BOUNTY WINNERS SELECTED
For the past weeks, the Flow Hackathon has been going on to give people a chance to show off their cadence and developer skills. Part of the Hackathon included a special bounty that Flovatar sponsored. The bounty was for whoever can create something using the smart contract to add new things and experiences to Flovatar. After weeks of submissions and judging, Luca joined the awards webinar to announce the winners.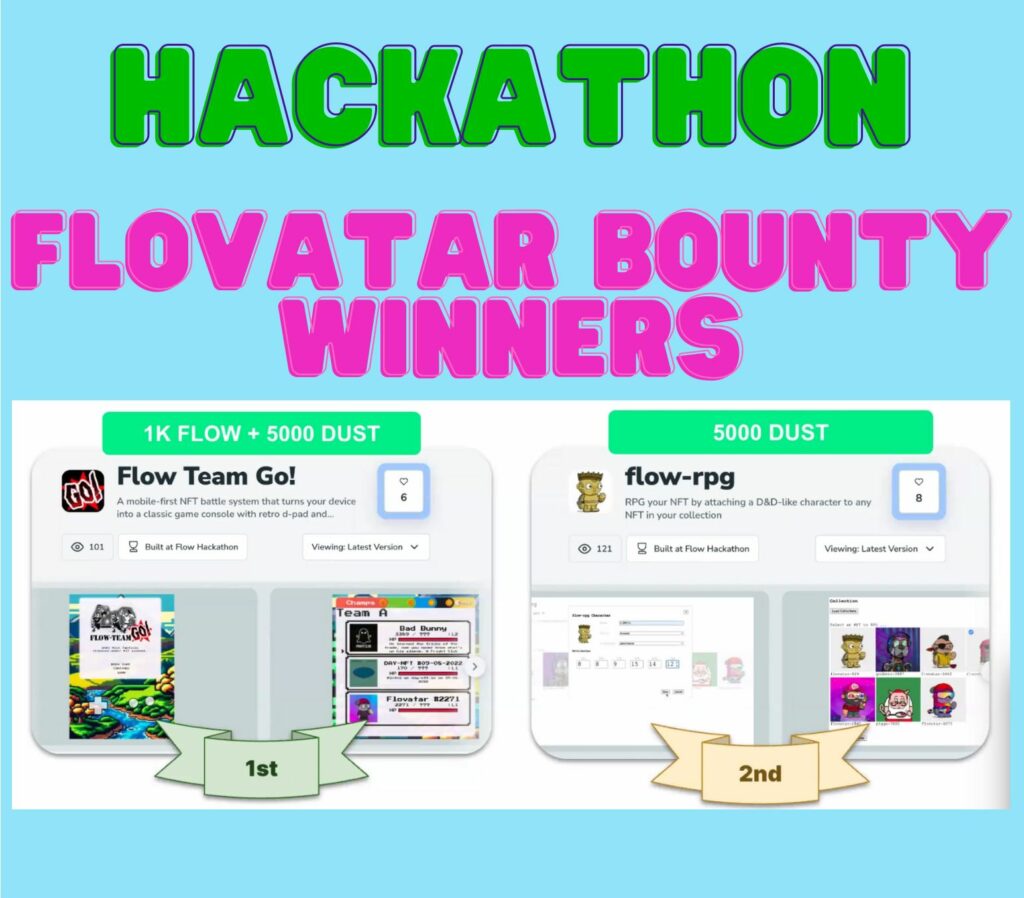 First up we have the overall winners of the bounty, Flow Team Go! For those "experienced" community members (old, I mean older. Just trying to be nice even though I'm included I guess), do you remember playing Pokemon on a GameBoy? If you think GameBoy is just a flobit Luca made up, Google it for the love of god and don't laugh at those of us who know. Anyway, what if you can play something like that but using your flovatars? Sounds awesome right? Now, what if your phone turned into a GameBoy as well to play it? Ok, I'll stop asking questions. Flow Team Go! looks like a really fun and nostalgic way of putting your NFTs into action. Check out the video for the details and a quick walk through. Congrats!
Next up in 2nd place is Flovatar's very own famous (or infamous if you're a Villain) robot, C-3PFLO with his version of a game. Any D&D fans in Flovatar? Asking what D&D is maybe? What's a matter with you? Dungeons and Dragons is an immensely popular RPG that has been around for a long time. Now imagine having your flovatars in that game setting. Pick your flovatar, choose a class of character and alignment, and assign some attributes and off you go. Check out the Flow-RPG submission for all the details.
https://devfolio.co/projects/flowrpg-f81d
There were several other submissions which included things like more games and the ability to re-package your Flovatar stuff into packs to distribute. All the submissions earned some kind of reward from Luca for their efforts. Congrats again to the 2 big winners and we all can't wait to see how these ideas progress in the future.
FLOVALYMPICS UPDATE
The epic marathon known as the Flovalympics marches on this week (see what I did there?). The contest for a booster full of riches saw 2 more chances for teams to earn points this week. First was by the continuing March Madness tournament where teams are voting on winners collectively and battling other Flovalympians in head to head matches. The other chance at earning some points was through the return of owner's poker! That's right. Wen Poker? Well, you missed it because it was on Thursday night. Not only was owner poker dishing out prizes to the final table and awarding points towards this year's FWSOP, it was also earning teams points based on how long their athletes lasted. Speaking of that big booster of prizes I mentioned above, let's get an update on the status.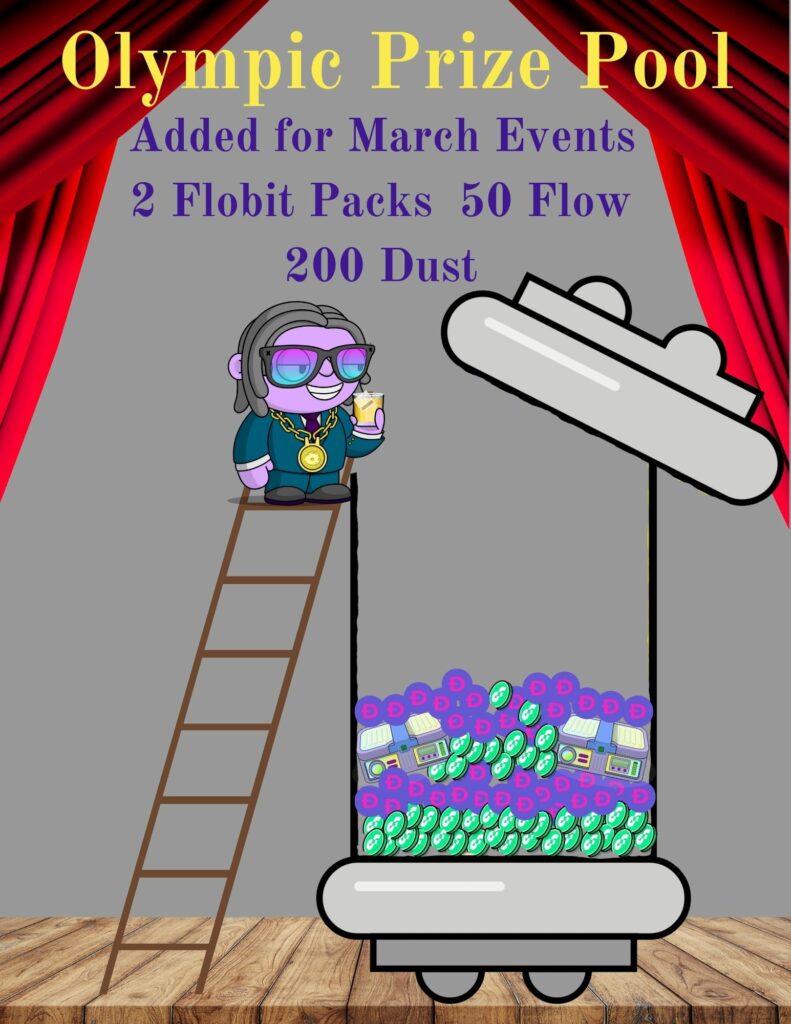 As you can see, LoneStarSmoker has been climbing that ladder again to make a deposit for the athletes. This week he poured in another 50 Flow, 200 Dust, and 2 Flobit Packs. This puts the grand total for the prize pool so far at 150 Flow, 450 Dust, and 2 Flobit Packs. As the events continue, more prizes will be added. Keep in mind that the earlier you join and participate (yeah, you actually have to help your team and not just sit on the sidelines), the more you are eligible for the prizes if your team wins. No freeloaders will be rewarded. We will be back with a standings update when the poker points and March Madness contest conclude. That'll do it for this week. Enjoy your weekend everyone and we will see you next week. Stay classy Flovatar.