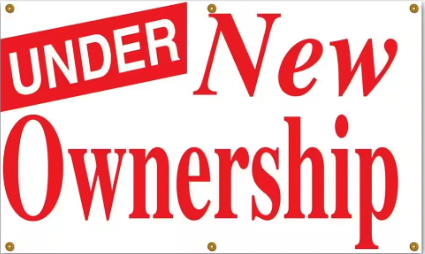 A LETTER FROM THE NEW EDITOR OF FUD NEWS
Tomorrow is April 1 and that means it's time to turn over a new leaf.
This paper is now owned by me, J Peterman, Head of Fashion for Flova Labs and author of the book Flovan Fashion in the 39th Century; platform boots and transit suits during the Droid Rebellion. The J in my name doesn't stand for anything so don't ask.
Under the previous management, this newsletter was a stuffy rag. I mean really, how many more times did we need to read a paragraph where the editor droned on and on about tedious topics like DAOs, minting, pack drops, etc…….sorry, I fell asleep just thinking about it. The name of the paper doesn't even make sense, it comes out weekly, not daily.
This periodical is undergoing a facelift. So grab an extra large Sloosh and enjoy the new and improved FUD news.
Thank you to our top patron of this newsletter, Quarterback Aaron Rodgers, for your generous contributions and also for your record of 25-4 against the Chicago Bears.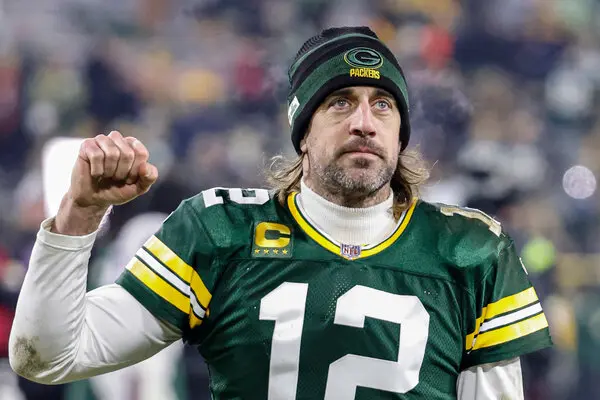 Advertising space can be purchased using DUST. For more information contact @Omcler in Discord. Make sure when you contact him, you ask him what he has for sale.
(I should mention that for serious news about DAO votes and other issues, visit Discord. There is a vote for 3 proposals for Psyche Likee pricing currently ongoing )
ASK PETERMAN ADVICE COLUMN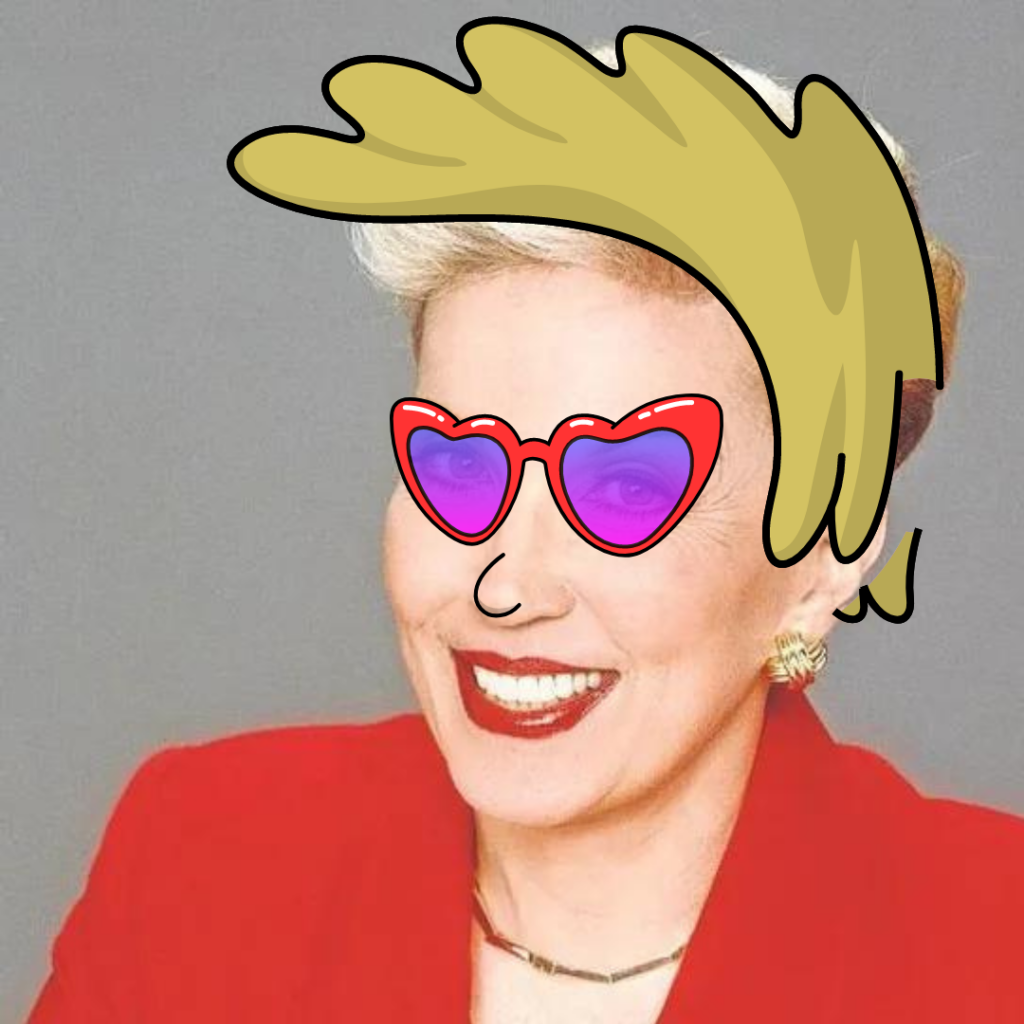 How can I combat this outrageous breach of natural justice?
Dr. Ms. Peterman,
I joined a completely free poker game and I finished in 11th. Then I learn that only the top 10 get prizes. How can I combat this outrageous breach of natural justice?
Sincerely,
Disappointed
Dear Disappointed,
I do find it outrageous that you played a free poker game without reading the rules first. Perhaps in the rules, you would find the guidelines of said (free) Poker game so you are not alarmed when you don't get a participation trophy.
Dr. Ms. Peterman,
There's someone in my life who I suspect may be lying to me. My friend is claiming to be a guardian but he's been exhibiting some strange behavior. He stays up late into the night, locked in the basement, making suspicious noises. He doesn't want to eat the food I make for him. It's like he's never hungry. Is he secretly a villain?
Sincerely,
Concerned
Dr. Concerned,
Your friend is lying to you but not because they are a villain. Your friend is a droid. Maybe give them some oil next time. Beep Beep Boop.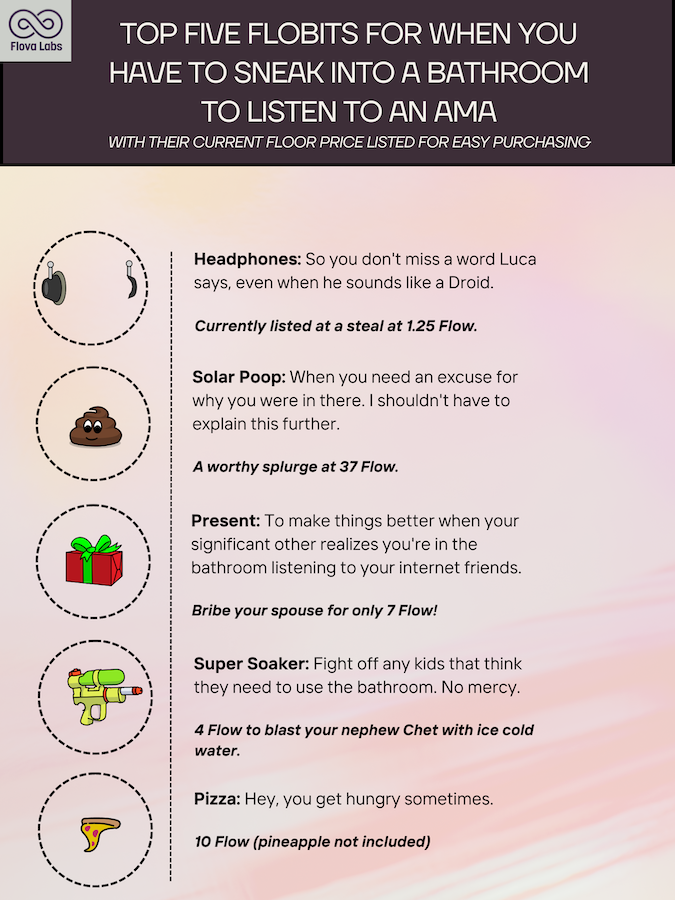 FLOVALYMPIC UPDATE
The first official Flovalympic Poker Tournament is in the books. And with the Flovatar Madness Challenge still ongoing, there's been a bit of movement in the standings with these two events.
To wrap up the current Flovalympic event, Team Zelda will take on the red-hot Droids with a chance to move on to the final where they will face-off against the winner of The Streaking Dead vs. Team Marlin.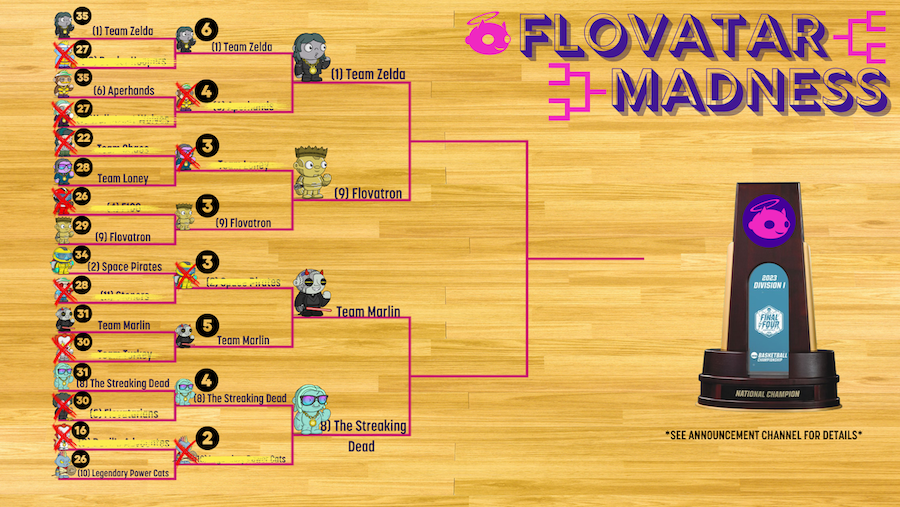 Overall Standings:
Team Zelda leads the pack with 53 points and has been at the top for most of the year. Even a meager poker performance couldn't keep them out of the pole position for long. Wow, they must have some smart, good looking, witty, talented people on that team.
Next up, tied for second are the Space Pirates and The Devil's Advocates, both with 52 points. The Advocates surged to the top of the leaderboard after Eski's 1st place finish in poker. Their one-and-done showing in the big dance, though, could knock them all the way back to 4th place pending the final results of Flovatar Madness. Too bad the Space Pirates are out as well, upset by a lower seeded team. There's always next year.
The FlovaTrons come in third with 51 points but they win first prize for the most boring name. However, they have all the momentum right now. The last week has seen the Droids turn from pretender to contender by taking 2nd place in poker and by finishing in the top 4 in Flovatar Madness, earning 23+ points in the two events.
Team F-100 has 48 points. They wouldn't know it though because they're too busy worrying about the next season of their Netflix show to actually win anything.
At 47 points, the Streaking Dead are just hoping no one sees them with their pants down.
The Flovatarians – aka The Others – clock in at 45 points which is great for a team filled with people picked last for kickball.
Wall Street Wolves 42 points are lower than I expected for a group of people named after blood thirsty animals (and wolves.)
Aperhands has 41 points and the Border Hoopers have 40 points and neither of those names make any sense to me. Figured the Hoopers would have done better at March Madness though.
The Stoners are NOT in dead last, surprisingly with 33 points. That honor goes to the Legendary Power Cats with 32 points. It's still anyone's game though, as the standings can change drastically from week to week.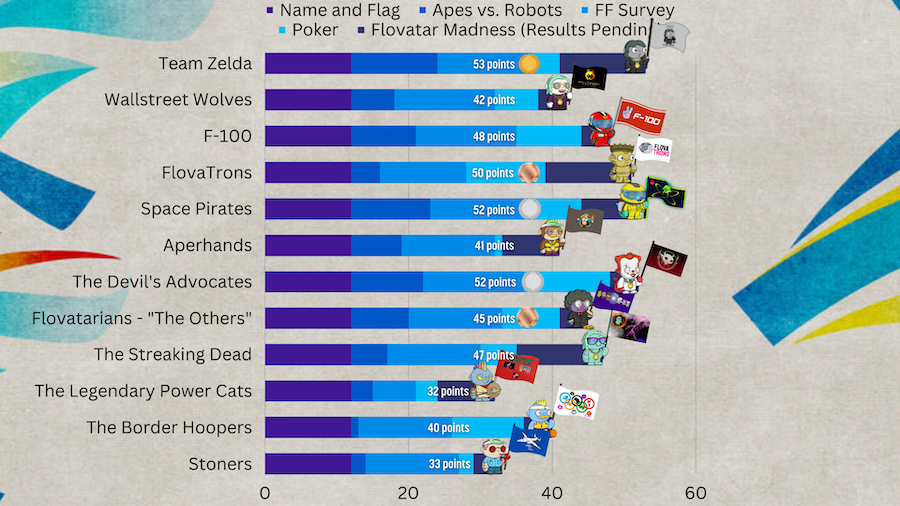 SPECIAL SECTION SPONSORED BY FLOVA LABS