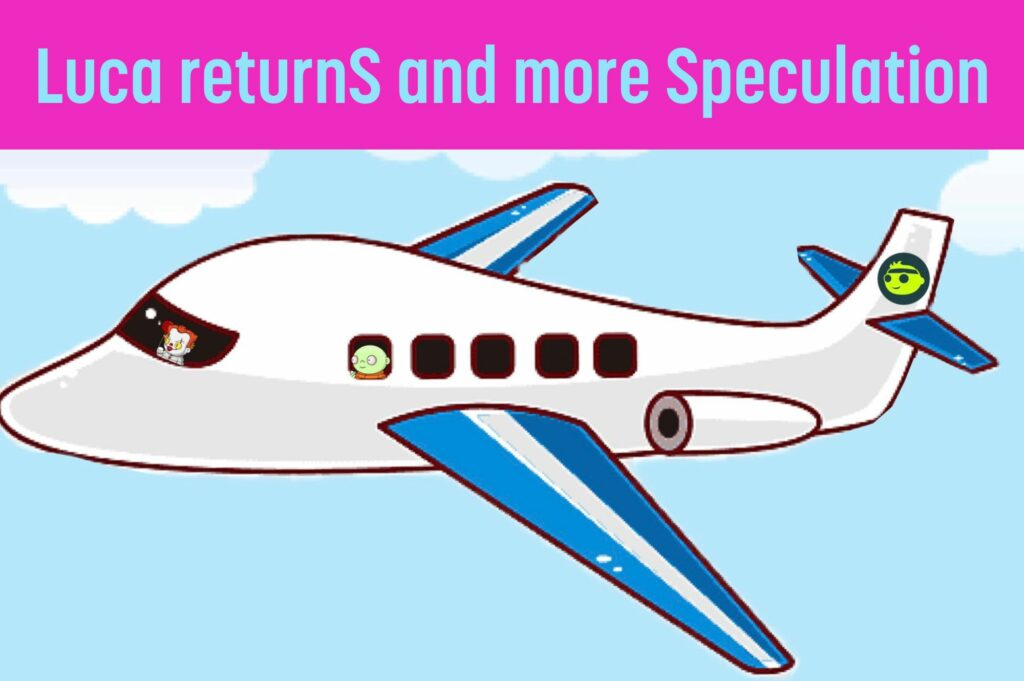 "PROJECT S" SPECULATION AND OTHER STUFF
by Ron Flogundy
Good afternoon Flovatar world, I'm Ron Flogundy. It's been 2 weeks since I was kidnapped…or um…joined this misfit news outlet and have yet to report any news. I spent my first week in orientation which involved me being forced to marathon binge shows like Seinfeld and Curb Your Enthusiasm for some reason.
My second week was one to forget. Literally. I forgot everything that happened thanks to being drugged by Peterman. Now that I am here and have sipped a fine glass of Redbreast 21yr, let's recap what happened this week.
First up, Luca spent the week traveling for some important meetings involving "Project S." This secret has been in the works for quite a while now and everyone is anxiously awaiting what this means. When I asked him for a statement, he replied "no comment." Personally, I had hoped the "S" stood for scotch but am sad to report it does not. How amazing would this be though?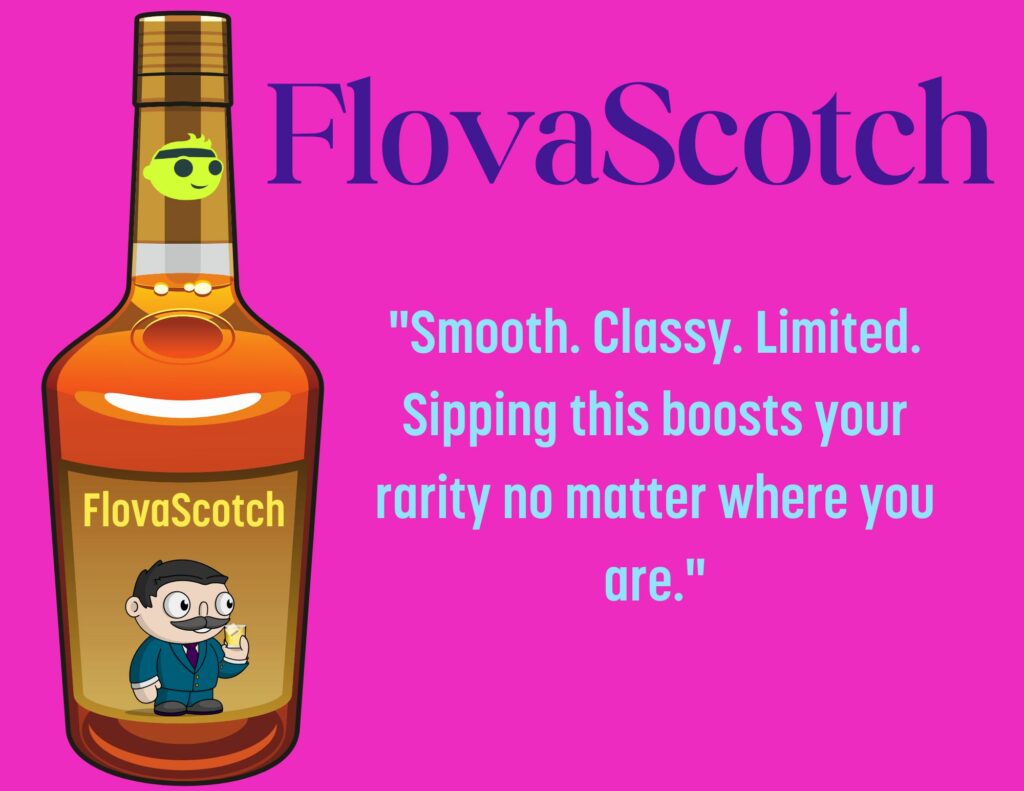 If "Project S" isn't about scotch, then I guess the next best thing would be a fellow mustachioed friend taking over. You heard it here first folks. "Project S" could be Flovatar being bought out by none other than Schuckster! Frankly, it's about time because nothing screams professional and powerful and certainly not a creep than someone with a well groomed mustache. I'm so confident that I have changed my appearance in order to prepare for my new boss. I'm not a kiss ass so shut it. It's more like, politicking. Check my new profile pic at the end. I even have an actual photo (definitely not altered) of the meeting with Luca for all to see.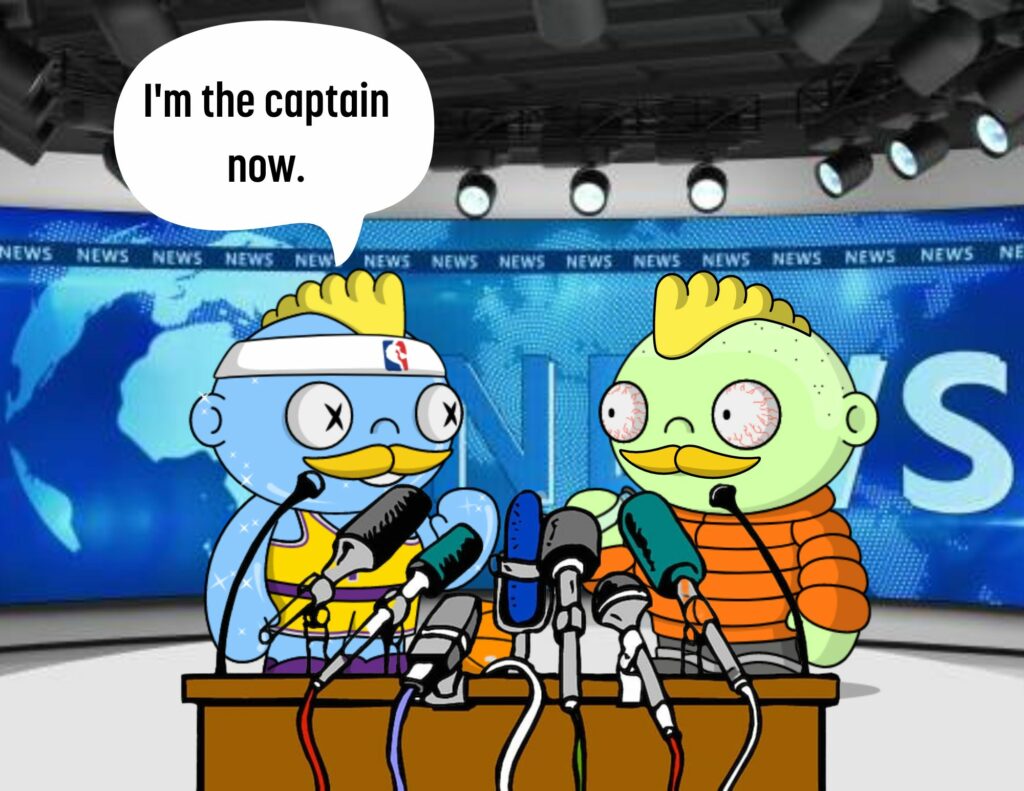 Schuckster would run this thing like any other tech star buying an established company. He would immediately monetize all the fun and crucial parts of the experience to make us rich. We would charge $8 anytime someone wanted to build a Flovatar. We would be launching rockets in our spare time.
If it's not scotch or Schuckster, frankly, I do not care. What else can be better than those?
Moving on in this week's review. The survey for feedback regarding the Dust vote is still up and running. There has been a good response so far. Continue to fill out the short survey so all the data can be compiled and analyzed. The DAO will resume the Dust conversation soon.
And finally, on Thursday, the Team took some time to do some wheel spins and prize giveaways. The Minter's Incentive Program wheel was spun for the 6th time last night. RichRaz took home the coveted standard pack while dropping a deuce in his favorite office as usual. The Earth Day contest wheel was also spun. Capietain Cook took home the standard pack in that one. A few Flobit Packs were also awarded and everyone who participated will receive a rare flobit soon. The night ended with some impromptu 4×4 Bobble League games that saw the winners take home rare flobits. All that fun made for a tumbleweed free night in Flovatar. That's it for this week flovies. As the Dust settles, this is Ron Flogundy signing off.
COMING SOON: Flovatar — A Dust Odyssey
by J. Peterman
In just a few days, the community will be able to listen to the pilot episode of the long awaited Flovatar Storyworld. This illustrated podcast, also available in short story format, will tell the epic tale of a group of heroes traveling the Megaverse. What starts as a charity mission to a primitive planet may change the course of history for the inhabitants of Flova. I was invited to a special media screening of the first episode and let me tell you; Star Wars has nothing on this space opera.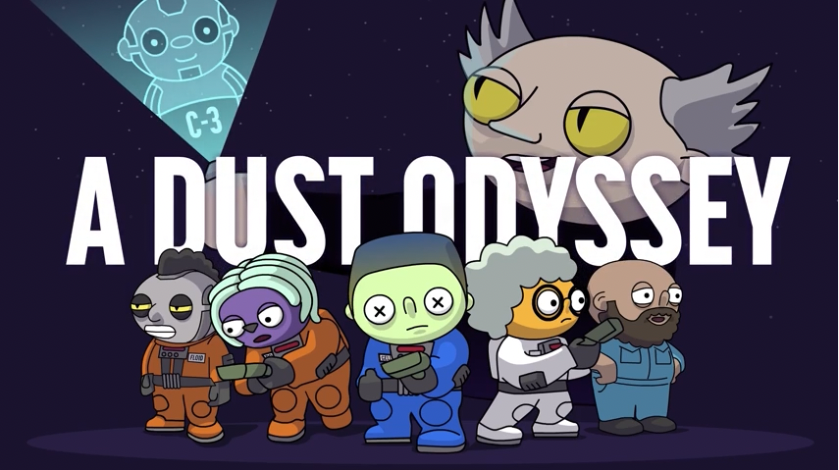 It got me thinking about how members of the Flovatar community would fit into other stories.
Throop starring in the opening scene of Kubrick's masterpiece 2001 A Space Odyssey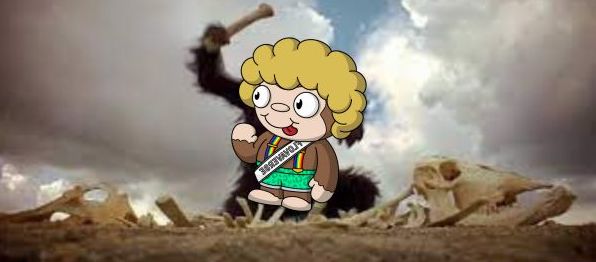 Chief KC with a cameo role as "the gimp" from Tarantino's Pulp Fiction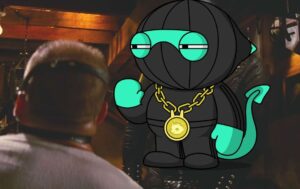 Pauly33 as the friendly monster in Mel Brooks' (maybe best) comedy Young Frankenstein.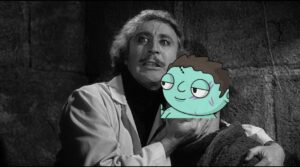 And of course….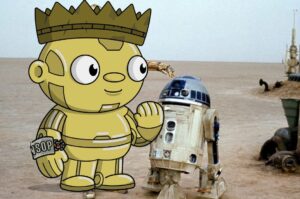 Look out for a teaser trailer for A Dust Odyssey coming very soon.
FÜCH FAĆE'S SPORTSBALL (FFS): NFL DRAFT REVIEW
by Füch Faće McGee
This weekend, the NFL Rookie Draft is taking place in Kansas City, Missouri. The big event kicked-off Thursday night and will run through Saturday. For those that were too busy watching wheel spins and playing Bobble League, F.U.D News has got you covered! A look at some of the highlights from opening night…
Bryce Young – The Carolina Panthers made the 5'9" quarterback from Alabama the first overall pick of the NFL Draft after trading up with the Chicago Bears earlier in the off-season. With their next selection, Panther fans are hoping the team makes a move for a step-ladder for the diminutive Young so that he's able to see the entire field over all the full-grown players around him.
Anthony Richardson – Richardson enters the NFL as the most athletic quarterback the league has ever seen after his performance at the NFL combine last month. It was enough to make NFL execs ignore his sparkling 6-7 record as a starting quarterback in college. And nevermind his dreadful 55% pass completion rate in college. Anytime you can add a quarterback that has the arm of Uncle Rico, but can jump higher and longer than any other player at his position, you gotta do it.
Bijan Robinson – Only one team in the NFL ran the football more than the Atlanta Falcons in 2022. So naturally, the Falcons drafted the best running back prospect since…well probably ever. Bijan arrives in Atlanta in a burnt orange lambo and his very own mustard (Bijan Mustardson – "It's like a touchdown in your mouth!"). The perfect player. 10/10, no notes. Hook' em!
Philadelphia Eagles – Look for the Bulldogs, err, Eagles to apply for SEC membership after adding two more ex-Georgia standouts in Jalen Carter and Nolan Smith to their defense. Both players were drafted lower than expected – Smith due to injury and I have absolutely no further comment at all on Carter. None. Fly Eagles Fly!
Mazi Smith – When Cowboy fans went to sleep on Wednesday night, they definitely didn't go to bed dreaming about adding depth to their thin wide receiver core. Or a do-it-all tight end in the mold of former Cowboy great Jason Witten. No, they were crossing their fingers for a big defensive lineman from Michigan that excels in jumping stairs. Rejoice, Cowboy fans! If we ever find ourselves playing in a stairwell, we're set!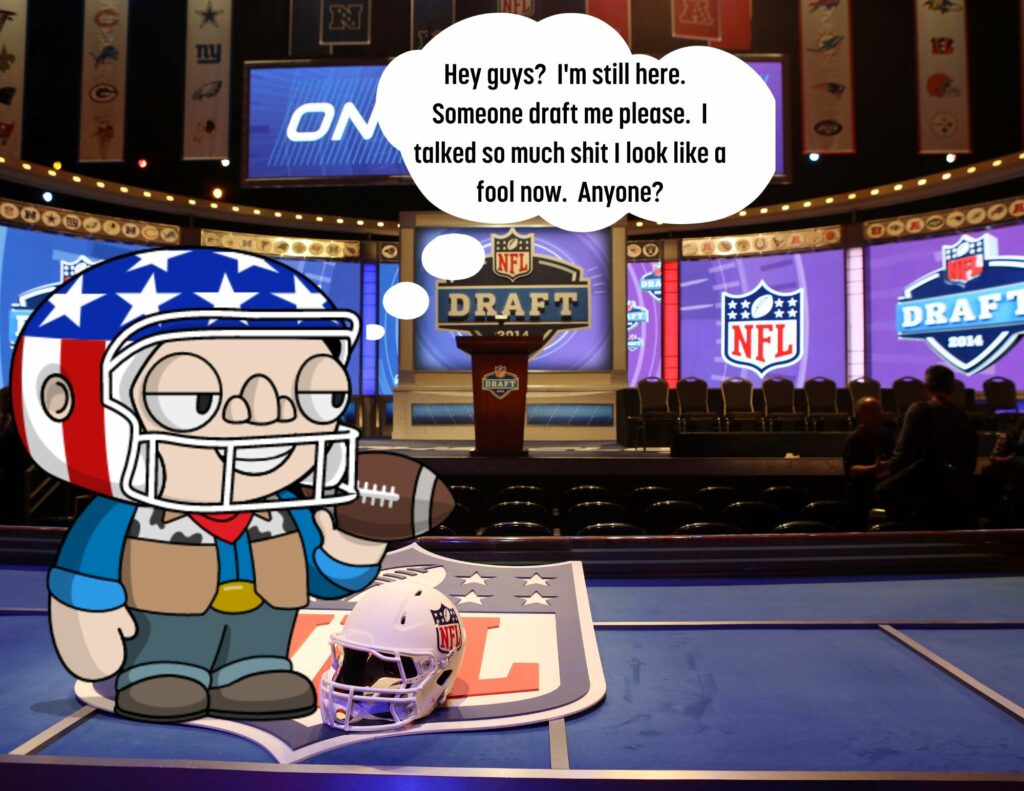 Will Levis – Thanks to a viral Reddit post, started by noted user SaleAgreeable2834, Levis was telling friends and family that he, not Bryce Young, would be the first player selected in the draft by the Carolina Panthers. Despite Mr. Agreeable's spotless reputation, those rumors proved to be false. Not only did Levis get passed up by Carolina, but the entirety of the NFL said "nah". What did you expect for a guy that puts Mayo in his coffee and eats banana peels?
NETFLIX & THRILL: KID CHAOS' MOVIE REVIEW
Candy Corn (2019): "It's Halloween weekend and a group of bullies are planning their annual hazing on local outcast, Jacob Atkins. When they take things too far, he's resurrected to seek revenge against those that wronged him."

Traditions. We all love partaking in ritualistic functions of some kind — Valentines Day, Halloween, Thanksgiving, Kicking someones head in. You know; the usual high points of a yearly tradition. But for this group of young adults, things take a turn into a hellish world of pain. The freaks come out at night and we know what happens when someone is bent on revenge…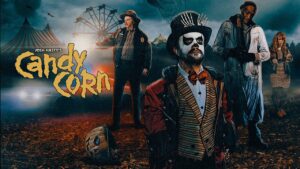 This movie opens with a shot that swings in and pulls up to land you right into the middle of the sadistic group, secretly planning their yearly tradition. We find Carol (Madison Russ), Mike (Jimothy Beckholt), Steve (Cy Creamer) and Bobby (Caleb Thomas) in Coopers, a town diner. Their action leads them to a confrontation with Jacob (Nate Chaney) where violence boils over and the catalyst for the movie is "born." Thus we are introduced to Dr. Death/Lester (Pancho Moler) as he makes the decision for exacting revenge.
From this point, the movie goes on to make it known that the people on the list for Jacob / Dr. Death stand no chance as they are hunted down and killed one by one on Halloween night — much to the dismay of Sheriff Sam Bramford (Courtney Gains- Children of the Corn) on Halloween night. I found myself rooting for the group of four to be taken and killed sooner rather than later! There are wonderful characters that are intertwined in this story that make up the regular townies and the freaks. Other recognizable faces include Tony Todd (Candyman, The Crow), P.J Soles (Halloween, Stripes), Sky Elobar (The Greasy Strangler) and Justin Mabry (Trick or Treat Studios). Everyone in this film pulled their weight – the acting was spot on for the type of environment that was built around them and the town.
A lot of the setting/tone in this movie come across very believable and makes you feel like you're in middle of it all. The town, even though it's present day, feels like the 80s. Couple that with the sound design and you get an almost perfect homage to 80s cult films. It's very Carpenter-esque in the sense of building suspense with minimalistic and slight nuanced soundscapes.
Huge highlight for me on this movie was the use of practical FX mixed with a bit of CGI. When it came to the kills, the amount of gore present was well done. The character design for Jacob was spot on; his mask, no doubt a nod to 80's horror villains, and his blood soaked trench coat with subtle striping that mirrors the blood from his victims.
I can't even begin to imagine the amount of work that goes into producing a low budget feature film such as this one. Working close with people in the horror community and being part of The Dorkening Podcast Network, I was able to get access to this film from Epic Pictures and Dread Presents. Josh Hasty has just begun with Candy Corn and I'm glad he was able to tell this story the way he wanted to – he's onto something here. I'm hoping that we get to see more of Dr. Death's Sideshow Spookhouse Spectacular as he alluded that there are many stories to tell.
F.U.D News Staff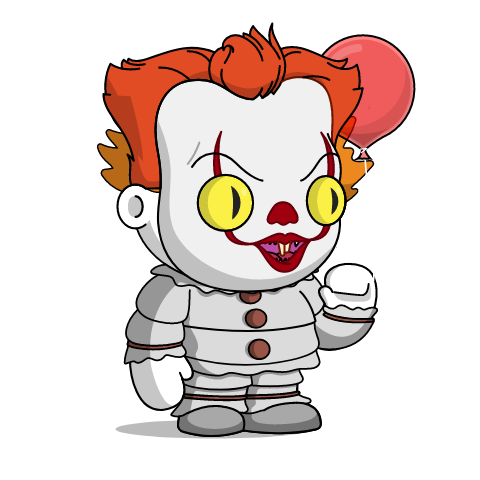 Pennytar- Founder & CEO
Straight from the circus, he was just clowning around one day online and stumbled into this wacky, low budget, and sarcastic news outlet.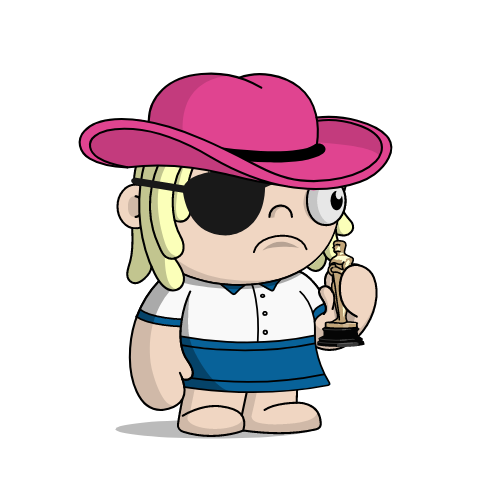 J. Peterman- Chief Sarcasm Officer (CSO) / Fashionista
Unable to deal with all of the fashion faux-pas she saw in Flovatar, J. Peterman lobbied the F.U.D. News editors to let her write a weekly fashion column. No one is safe from her rants.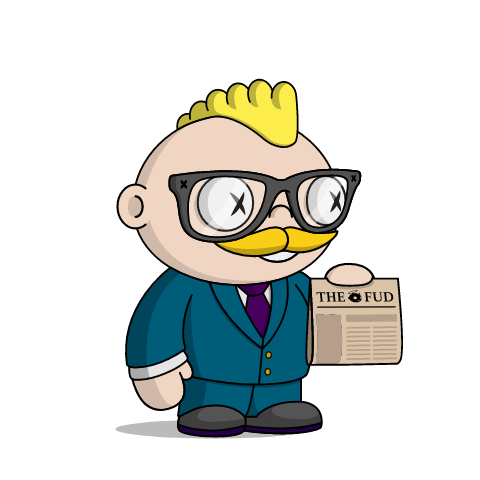 Ron Flogundy- Lead Anchor
After being fired from a reputable news source, Ron found his way into the F.U.D News room. He gave the media outlet a look of credibility when there was none.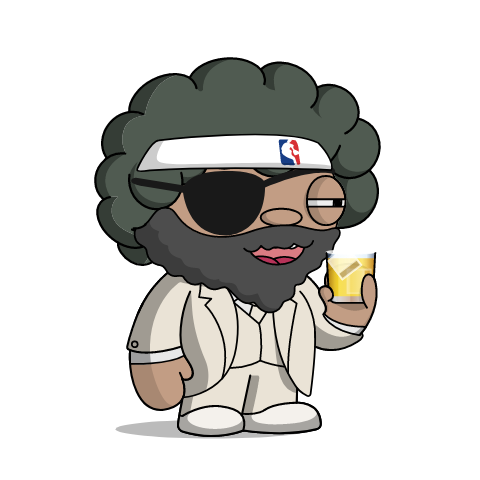 Füch Faće McGee- Head of Sportsball Division/Flovalympic Reporter
This Bulgarian-Irish born sports genius made a name for himself by having 1 too many whiskeys while trying to interview the Irish rugby team after a loss and causing a locker room brawl. Naturally, was a must hire for F.U.D.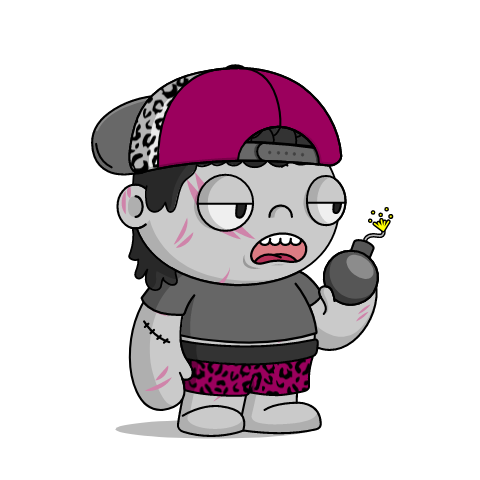 Kid Chaos- Resident Movie/Horror Correspondent
Not sure where this mysterious dude came from, he kinda showed up out of the shadows. If you need any movie or horror input, he's your guy. Just don't get too close to him or make any sudden movements.