SPORTVATAR: SPORTSBALL REIMAGINED
by Ron Flogundy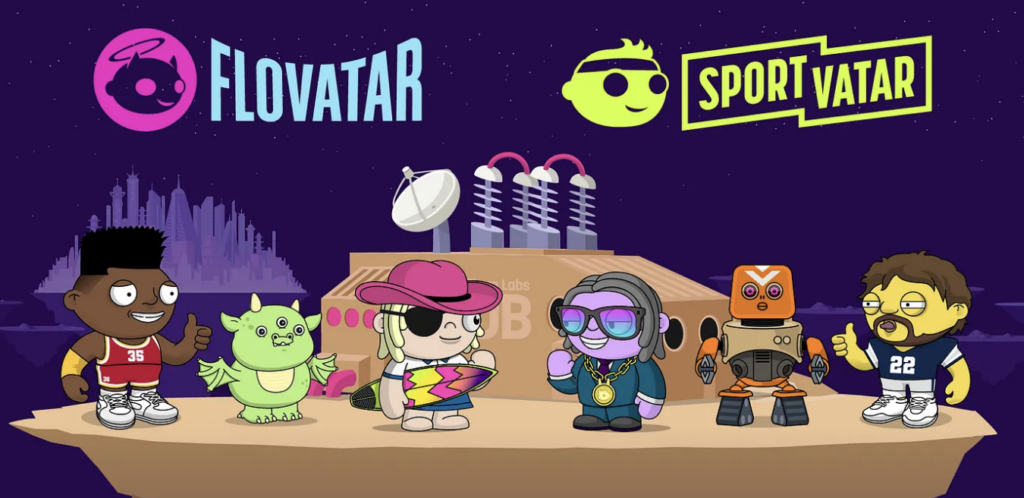 On Thursday, Flovatar revealed the long awaited and teased "Project S." Sportvatar kicked off earlier this morning and I, the great Ron Flogundy, have the details for you all. There's a lot to cover so let's dive deep into this new partnership. Yes, I said partnership. Sportvatar brings Flovatar and some of the biggest sports outlets in Europe and South America together in one fun place. Marca, La Gazzetta dello Sport, and their millions of followers are joining our world for some sportsball fun.

Great Odin's Raven. I just realized something. As I scrolled through their sites, I saw some banners posted. This looks like advertising or marketing but that can't be. I thought the marketing department was full of tumbleweeds.
So what do you need to know now to get orientated? First and foremost, you will want to read the new article Luca posted to get the details. You can find it here in the Flovatar blog page.
Pretty impressive, right? For those of you who skipped that and are more interested in some quick details, I've got what you kids refer to as the TLDR. Sportvatars are a way to show your fandom and creativity. To create one, you need a Sport Flame, which can be found in packs. The flames have the same rarities as Flovatars (common, rare, epic, and legendary like Me). Unlike Flovatar, you do not need boosters. This means that if you pull an epic flame, you can make an athlete using all epic traits or any combo of epic and lower rarity traits. Packs can be obtained and ripped right now for Flovatar owners as a perk of owning OG Flovatars.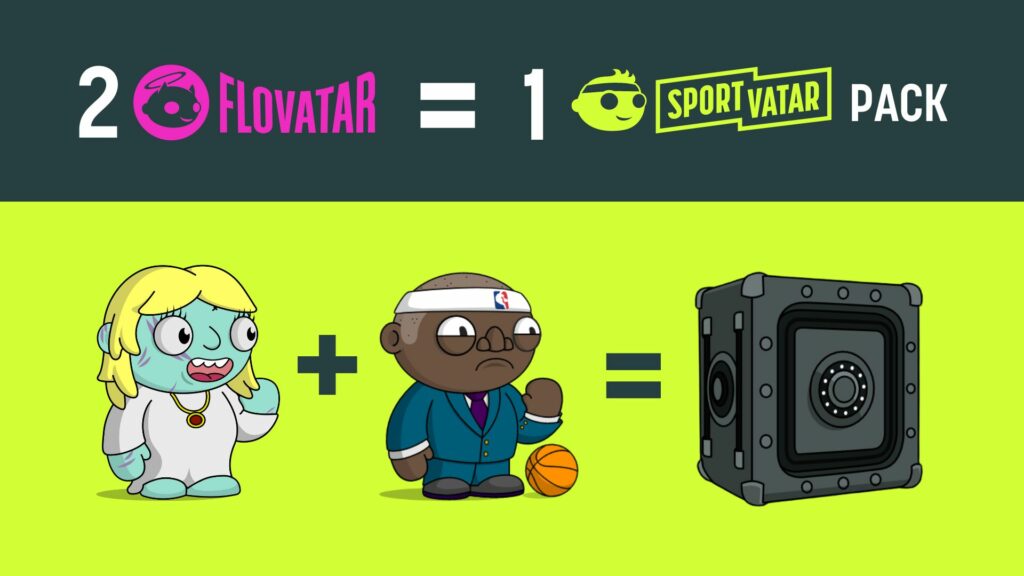 It's not a dream, it's real! For every 2 Flovatars you own, you will receive a Sportvatar pack. There is a small caveat though. Flovatars in Dapper and Blocto will count but they needed to be an even number. For example, if you had 3 Flovatars in each wallet, you will receive 2 Sportvatar packs instead of 3. Insert technical reasoning in here because Ron did not attend fancy computer academy or whatever those nerds call it. Owners can log into their Flovatar accounts now, click on "Sportvatar" under the "My Collection" tab, and follow the quick steps to see your pack redemption codes. Then it's time to rip open the packs and mint. As of this writing, there were already over 80 Sportvatars minted.
I know the Sportsball Division here belongs to Butch Face McSomething or whatever his name is, but I have seen my fair share of games. I have credibility when it comes to sports. I have interviewed everyone from die hard fans to big named athletes when I was trying to work my way into becoming Lead Anchor. I have proof…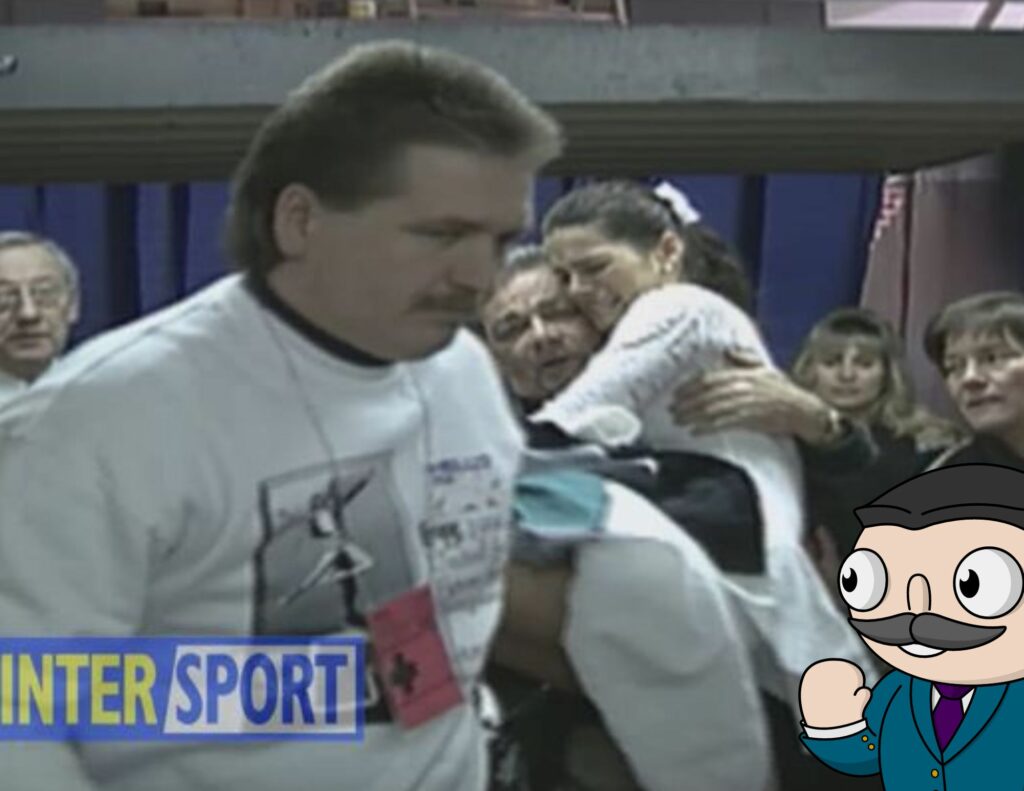 I was at this figure skating competition as a young reporter. Spoke with a nice girl named Tanya before who was worried she wouldn't win. I told her to be tough, do what she's gotta do, and go break a leg. Later on, this other nice girl Nancy was hit with a pipe but…..wait a minute. Oh, no. Um moving on to the next one.
I was a big Patriots fan back in the early 2000s and got to be a beat reporter. This nice gentleman would always find me before the games. He'd give me a binder with some stuff in it and said to make sure Bill got it before kickoff. Bill would be super appreciative always and even give me a healthy cash tip most of the time. Helped pay off my journalism student loans.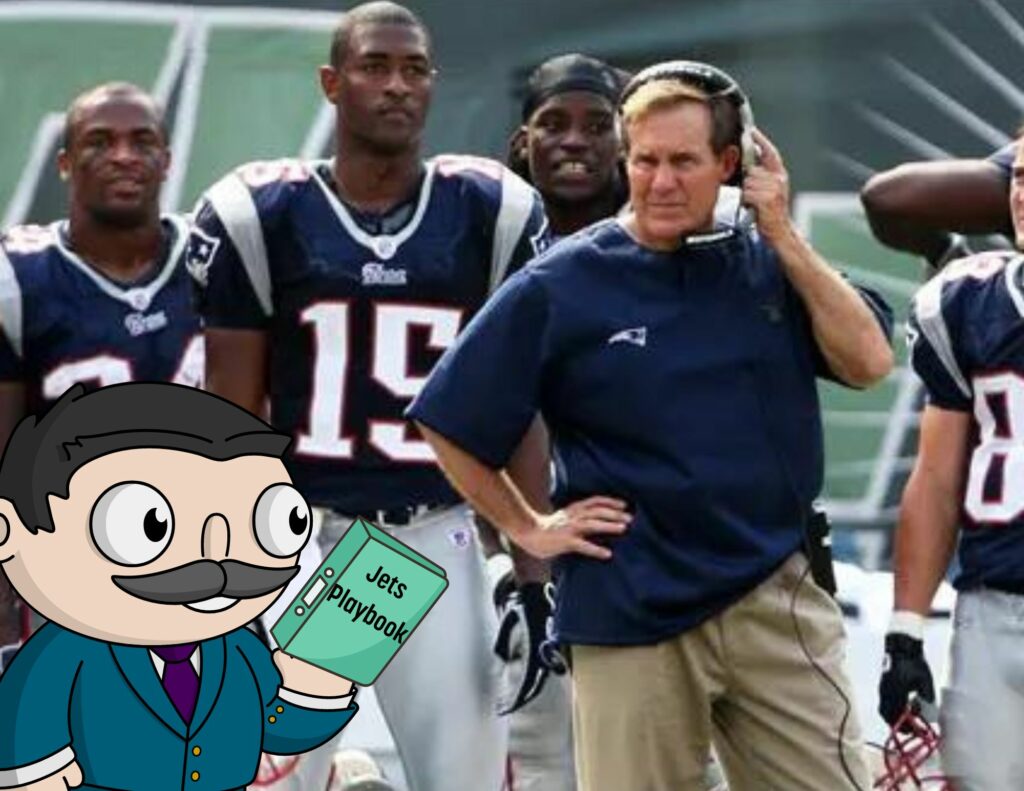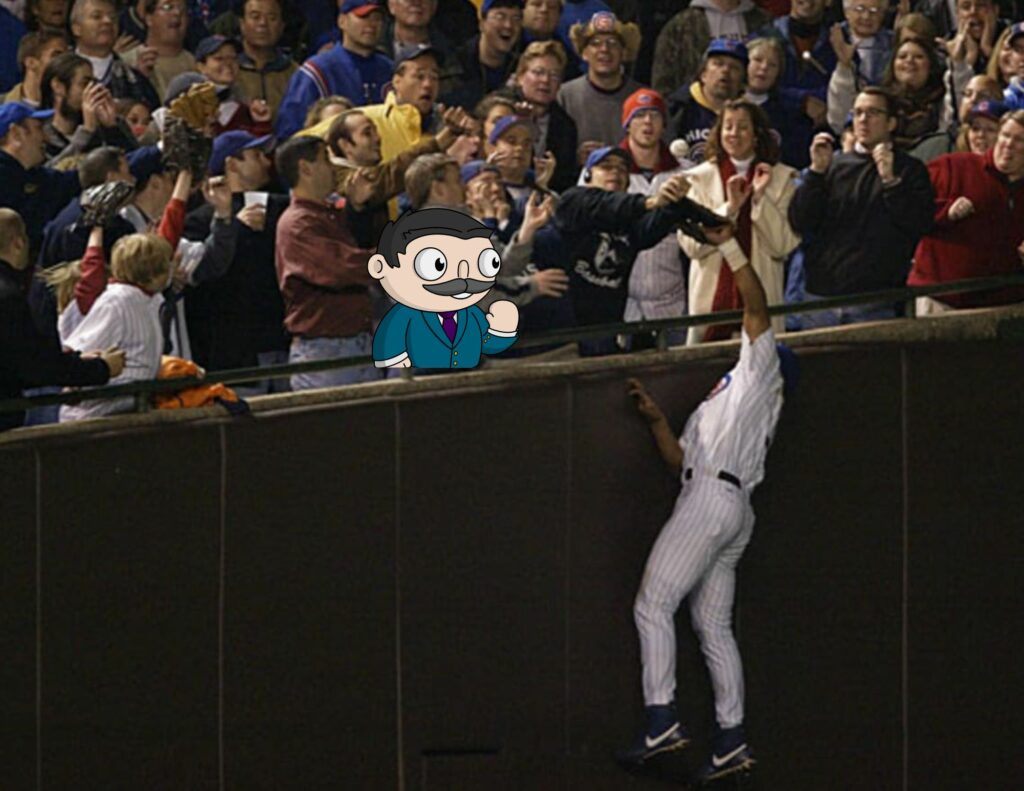 I became a baseball fan later on. I went to Game 6 of the 2003 NLDS and sat next to a cool guy named Steve. It was exciting. I said I would love a souvenir foul ball if it came this way. In the 8th inning, one came our way and I yelled, "Steve, you got this one!" He caught it nicely. Wonder where he is now? Haven't heard from him in a while.
I also got to attend the 2017 World Series. Before the series, someone from the Astros came up to me and asked if I wanted the best seats in the house. He said I could watch the game from the field. All I had to do was hold these signs with an earpiece. They told me which one to hold up at various times and I got to be right there! It was so much fun.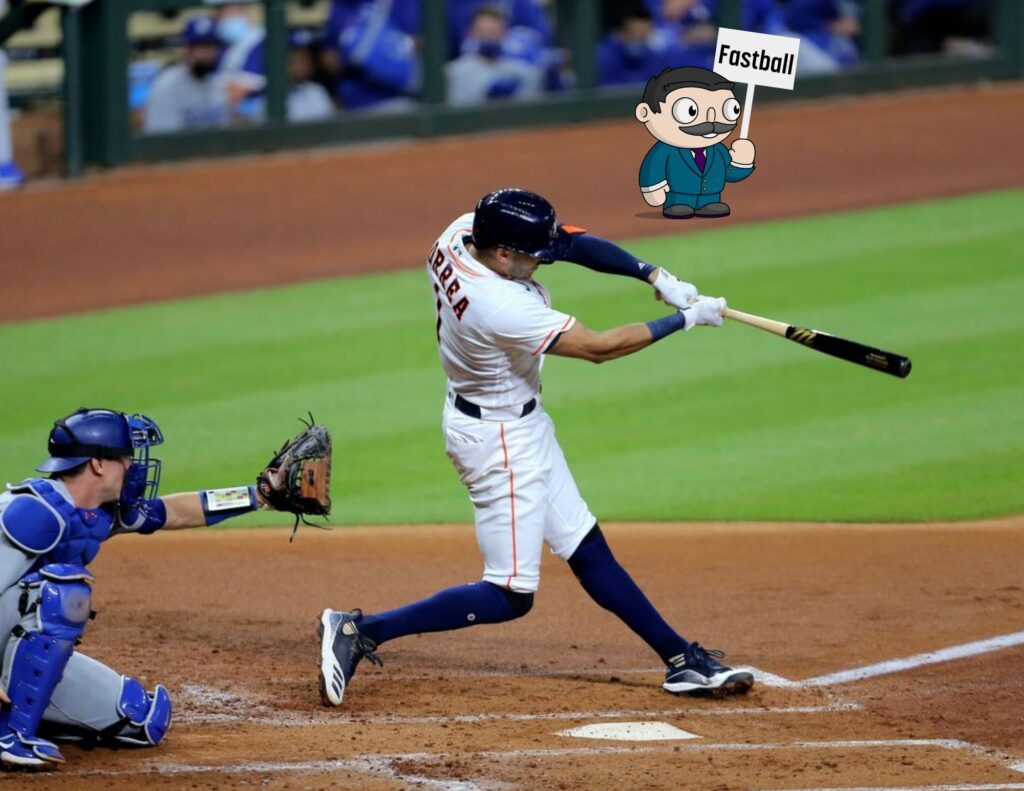 As you can see, I'm very credible when it comes to sportsball. While I know most of you would love to keep reading about my amazing self, I must go because I am late for my afternoon Scotch with my friend Mike. He said he's been wanting to talk my ear off about something from when I was at his fight with Evander back in the day. The Dust has settled. See you next week Flovatar family.
FLOVATAR: A DUST ODYSSEY RED CARPET
by J. Peterman
Flovatar community members are so close to getting their hands, ears, and eyeballs on the first episode of the Illustrated Podcast, Flovatar: A Dust Odyssey. If you haven't seen the trailer yet, watch it now!
What is an illustrated podcast? It's a bit like a children's book come to life. You don't see every single piece of action but that's the fun part. You use your imagination to fill in the blanks. FYI, this story is NOT for children, it's PG13, so you might want to think twice before you let little Suzie listen before bedtime.
Last night, the media was invited to the official premiere of the pilot episode in Flovawood and all the stars were out to celebrate. As always, I was there to critique their fashion choices:
Mary J. Blige
Rumor is, this legendary R & B icon wrote the theme song for this epic story. She looks cool as the other side of the pillow here in this leopard print hat, tinted glasses, and puffer jacket (it was 65°F in LA after all, basically freezing).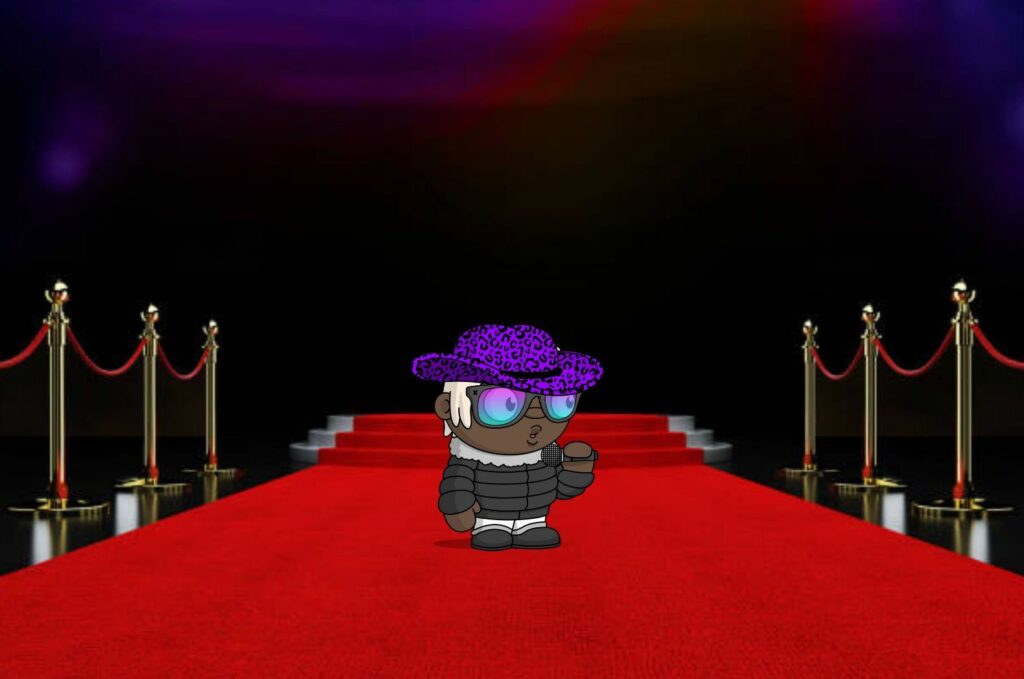 Lebron James and David Beckham
Los Angeles sports heroes Lebron James and David Beckham made an appearance last night after the Laker game. Maybe Lebron's head was too focused on the podcast premiere and that's why his team lost by 27 points to the Warriors. When asked where Victoria was, David Beckham replied "No comment, luv." I normally advise against wearing game worn getups to events like this because really, who wants to smell like sweat when you're seated in a cramped theater? Not great, guys.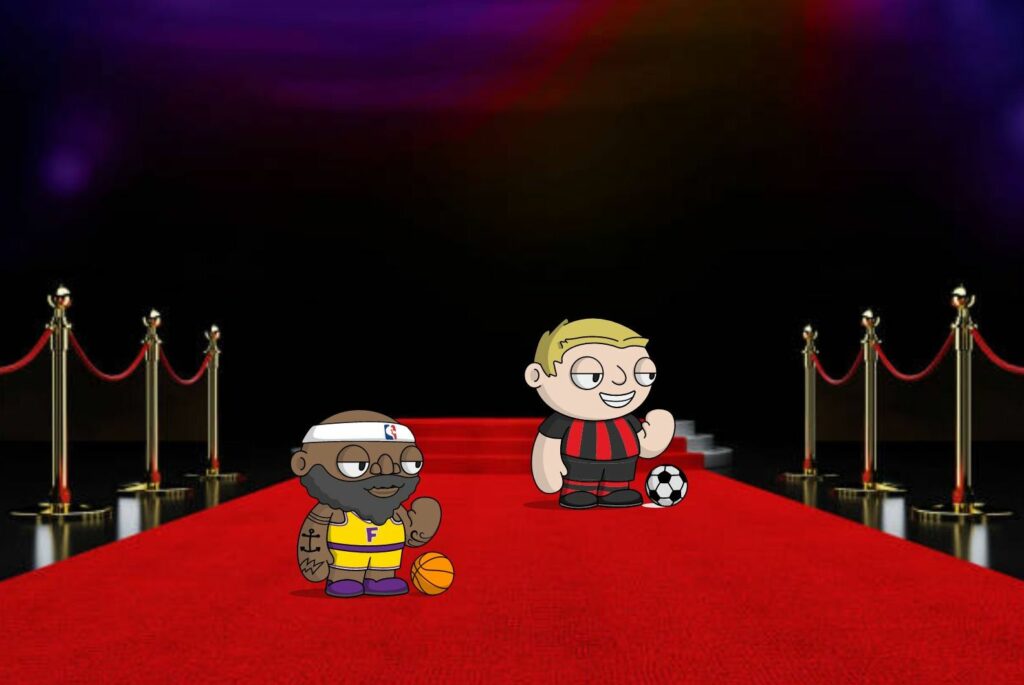 Will Smith
Oscar winner Will Smith made a rare appearance last night, making his way to Flovawood from his house in Bel Air. He looked quite dapper in his full tux though I wish he would let his Fresh Prince side out every once in awhile. The organizers were sure to keep him more than 20 feet away from any comedians at all times.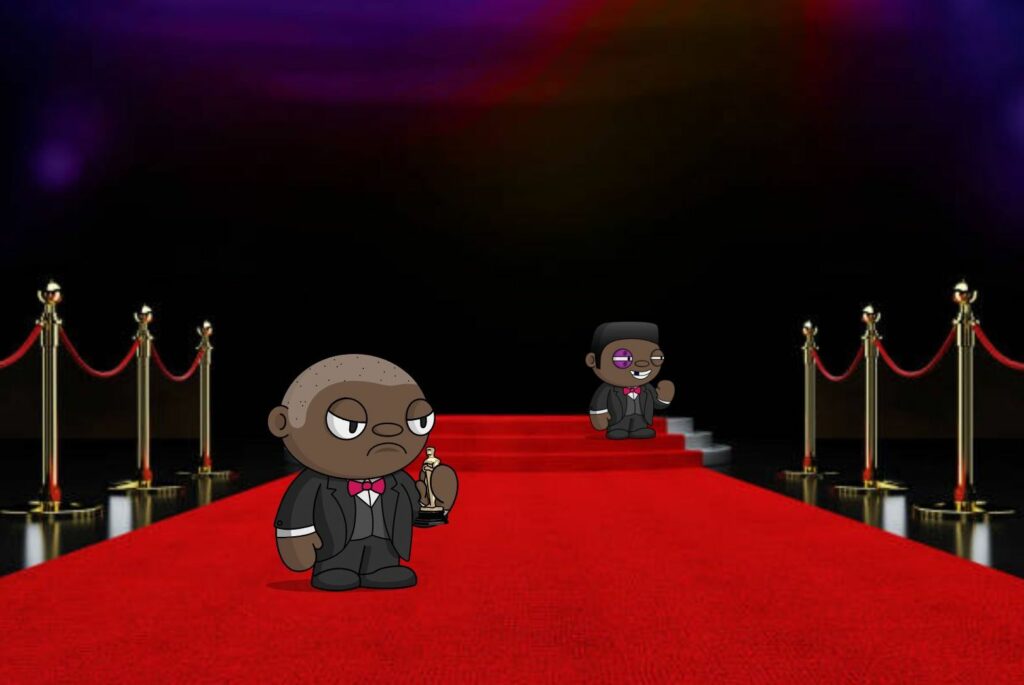 The Staff of F.U.D. News
Hey, look at us! Don't let anyone tell you we don't know how to have a good time. My colleagues' outfits, however, had me a bit down in the dumps. There's Ron, in his suit that he must sleep in since I've never seen him without it. Kid Chaos, I think he raided a Jersey Shore cast member's closet before the event. Füch Faće, pairing the slick, white tux I suggested with a gaudy sweat band that Lebron launched into the crowd. And my boss Pennytar, who most event attendees mistook for one of those weird impersonators outside of the Chinese Theater.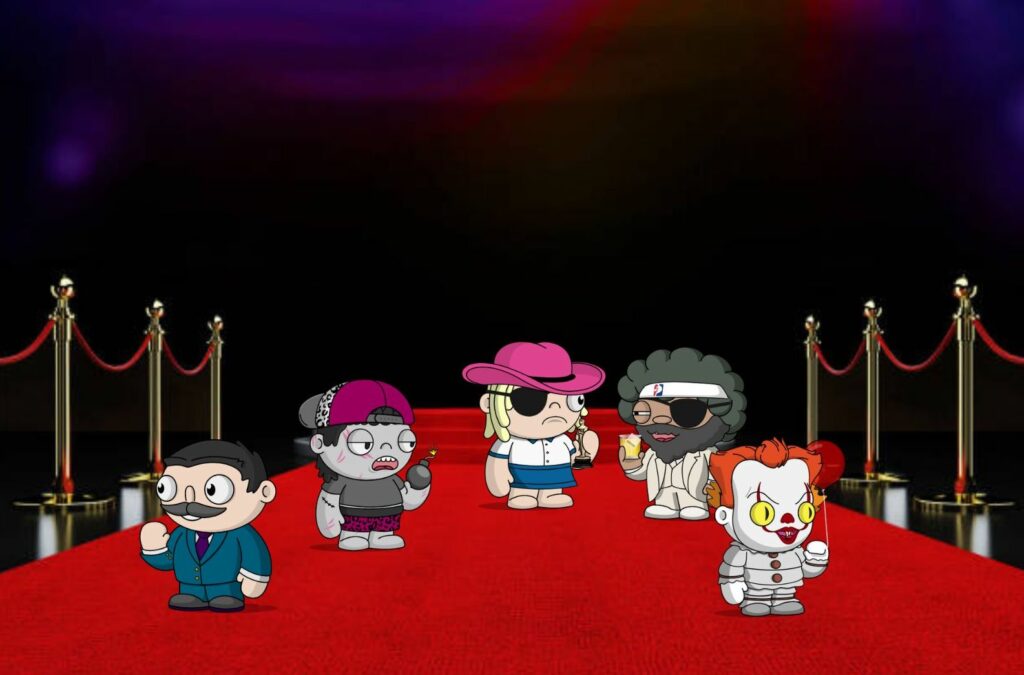 In summary, the fashion was mostly subpar but the podcast was out of this world. Get ready for the launch coming next week! Signing off from Flovawood for now.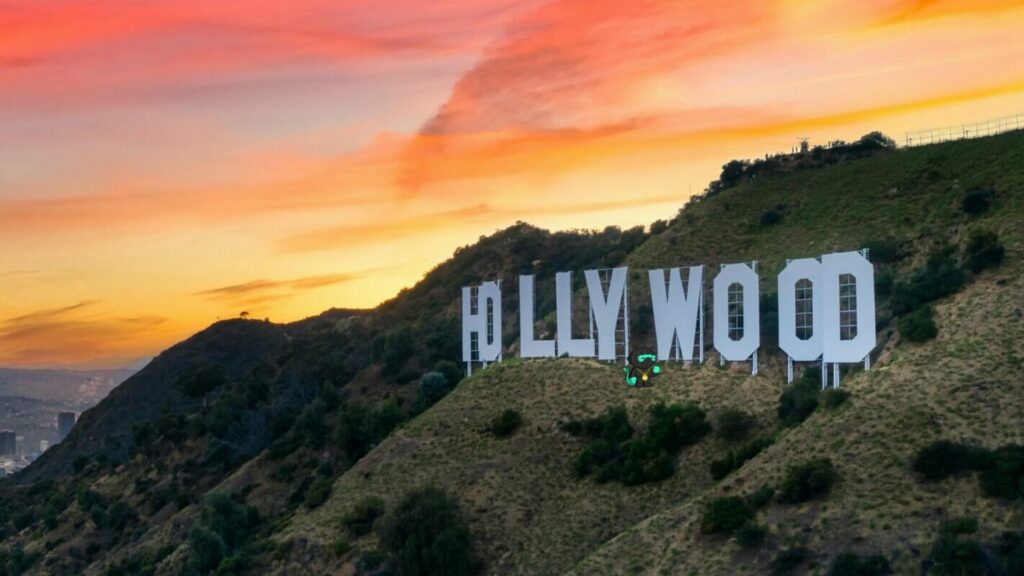 FLOVALYMPICS: BOBBLE LEAGUE UPDATE
by Füch Faće McGee
In the highly anticipated matchup between Flovatron and Team Zelda, it was the latter who emerged victorious thanks in part to their MVP, Chickism. Yes, you read that right. Chickism, of Team Flovatron, earned MVP honors for Zelda thanks to his two own-goals proving that in Bobble League, anything is possible. Except for kicking it in the right direction (for some).
F.U.D. News has exclusive audio from the match, as Flovatron was mic'd up for the bally-hooed event! We did the best we could transcribing the content but left the robo-swearing in it's native tongue due to being too profane to publish:
"beep beep Chicksim I'll go this way. Careful here…. wait…. NOOO!! BEEP BOOP BEEEEEP 010101001001!!!!!!"
"I'd like to dedicate our victory to Chickism and his courageous effort on the tabletop!" said Mrs.Turkey after victory. "It's about time The Bot was brought down a peg or two!"
Not every game was a complete breakdown in skill and coordination, however. The Border Hoopers and Devil's Advocates join Team Zelda in starting 2-0. These teams clearly mean business and should not be taken lightly.
Meanwhile, F-100 and The Streaking Dead split their games, leaving them in the middle of the pack. The Aperhands and Wallstreet Wolves are waiting to play their first games after a scheduling hiccup. And then there's the Flovatarians and Space Pirates, who along with the Droids are all still looking for their first win. But hey, maybe the real wins are the friends we made along the way.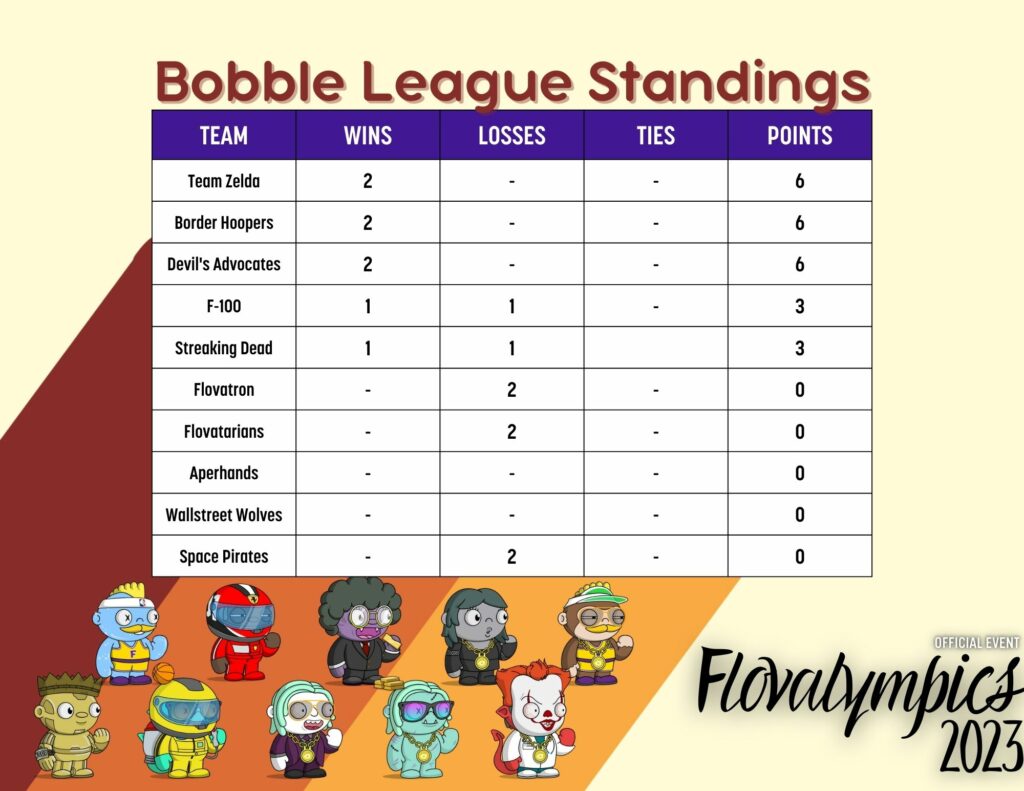 Overall, week 1 was a rollercoaster of emotions, but one thing's for sure – we can't wait to see what week 2 has in store. Will Chickism continue his torrid own-goal pace? Is it possible to lead the league in scoring if all goals are own-goals? Will the winless find victory for the first time this season? Will Team Zelda be forced to score for themselves this week? Only time will tell.
F.U.D News Staff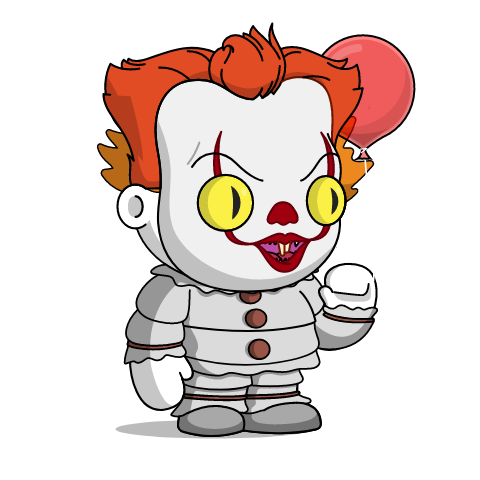 Pennytar- Founder & CEO
Straight from the circus, he was just clowning around one day online and stumbled into this wacky, low budget, and sarcastic news outlet.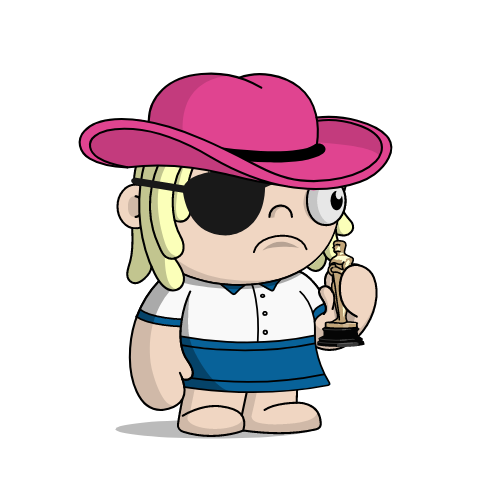 J. Peterman- Chief Sarcasm Officer (CSO) / Fashionista
Unable to deal with all of the fashion faux-pas she saw in Flovatar, J. Peterman lobbied the F.U.D. News editors to let her write a weekly fashion column. No one is safe from her rants.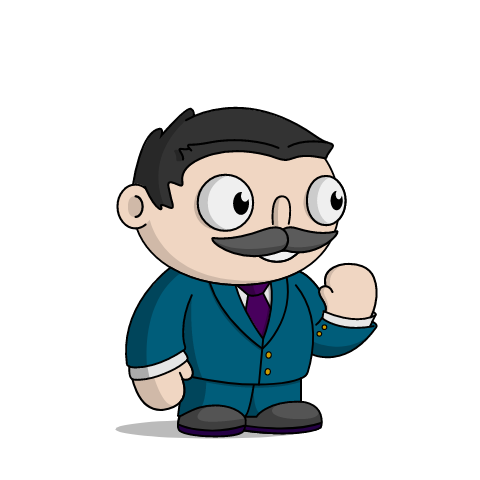 Ron Flogundy- Lead Anchor
After being fired from a reputable news source, Ron found his way into the F.U.D News room. He gave the media outlet a look of credibility when there was none.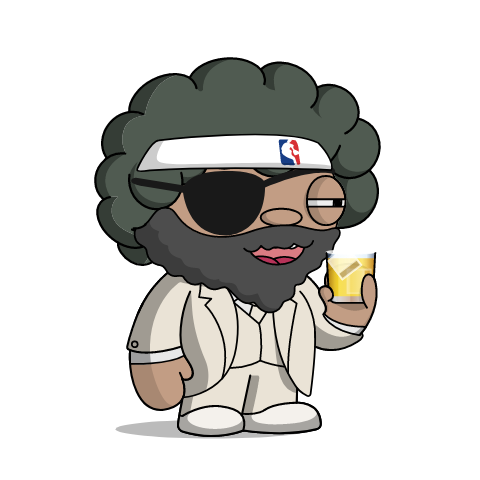 Füch Faće McGee- Head of Sportsball Division/Flovalympic Reporter
This Bulgarian-Irish born sports genius made a name for himself by having 1 too many whiskeys while trying to interview the Irish rugby team after a loss and causing a locker room brawl. Naturally, was a must hire for F.U.D.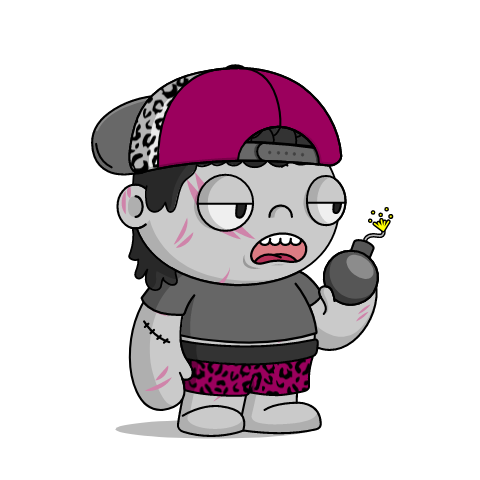 Kid Chaos- Resident Movie/Horror Correspondent
Not sure where this mysterious dude came from, he kinda showed up out of the shadows. If you need any movie or horror input, he's your guy. Just don't get too close to him or make any sudden movements.