SUMMER WIND DOWN
By Ron Flogundy
Happy Friday people of Flovatar. I, Ron Flogundy am here to entertain you for a few minutes of your day. It'll be quick and enjoyable. A pleasure filled 5 minutes of entertainment on this monumental edition. It's been 69 weeks now of this publication. That's kinda long.
What's that Peterman? Enough innuendos? I have no idea what you mean. Sounds like you are making up words. Anyways, let's get this week's roll in the hay under way. It's mid August and that can be a sad time for many people. Summer is winding down which means colder weather is incoming. The days are getting shorter. I actually had a fairly good summer this year. I visited distilleries (highlighted in the June editions), wore some great suits, and got the greatest tan of my life. Look at this beach body glistening.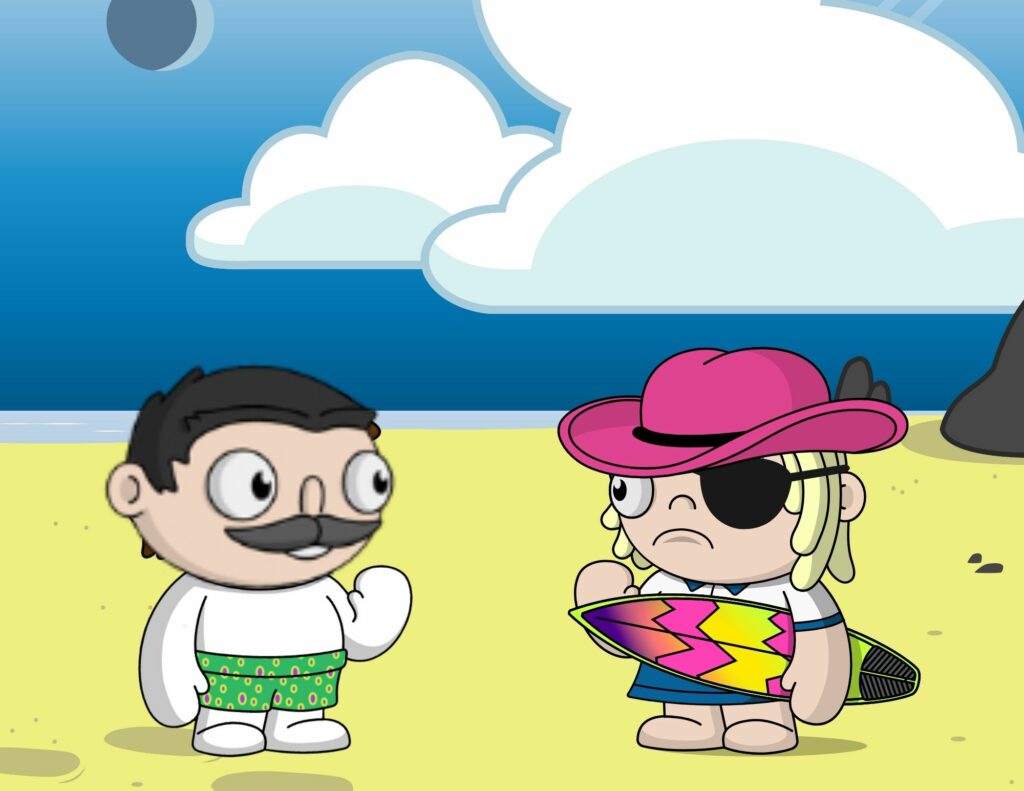 While there are plenty of negative things about summer ending, I am here to focus on the positive ones. Flovatar's mini summer break is also ending and things are ramping up again for a fall full of fun. Football is almost back and I know that makes McGee happy. He keeps blabbing about some team called the Cowboys that no one seems to care about. Check out McGee's article below for info on what Flovatar has in store for this season.
After speaking with many people in the community, apparently there's another big perk about the summer ending. It seems like this time of year brings joy to several parents. They get to hand off their human Psyche Likees, known as children, back to the school systems and the poor teachers who have to deal with them. Imagine a room full of 20+ mini humans running around still full of summer energy and probably sugar. One lucky teacher gets to wrangle them all in and tire them out during the day while parents rejoice.
Speaking of Psyche Likees, this was week 2 of The Great Psyche Likee Rebate promo. On Tuesday, the wheel landed on the adorable koala face. The community hit the builder pretty hard again in the 48 hours to bang out several cool new friends. The rebate program has been a success so far. Check out the updated data.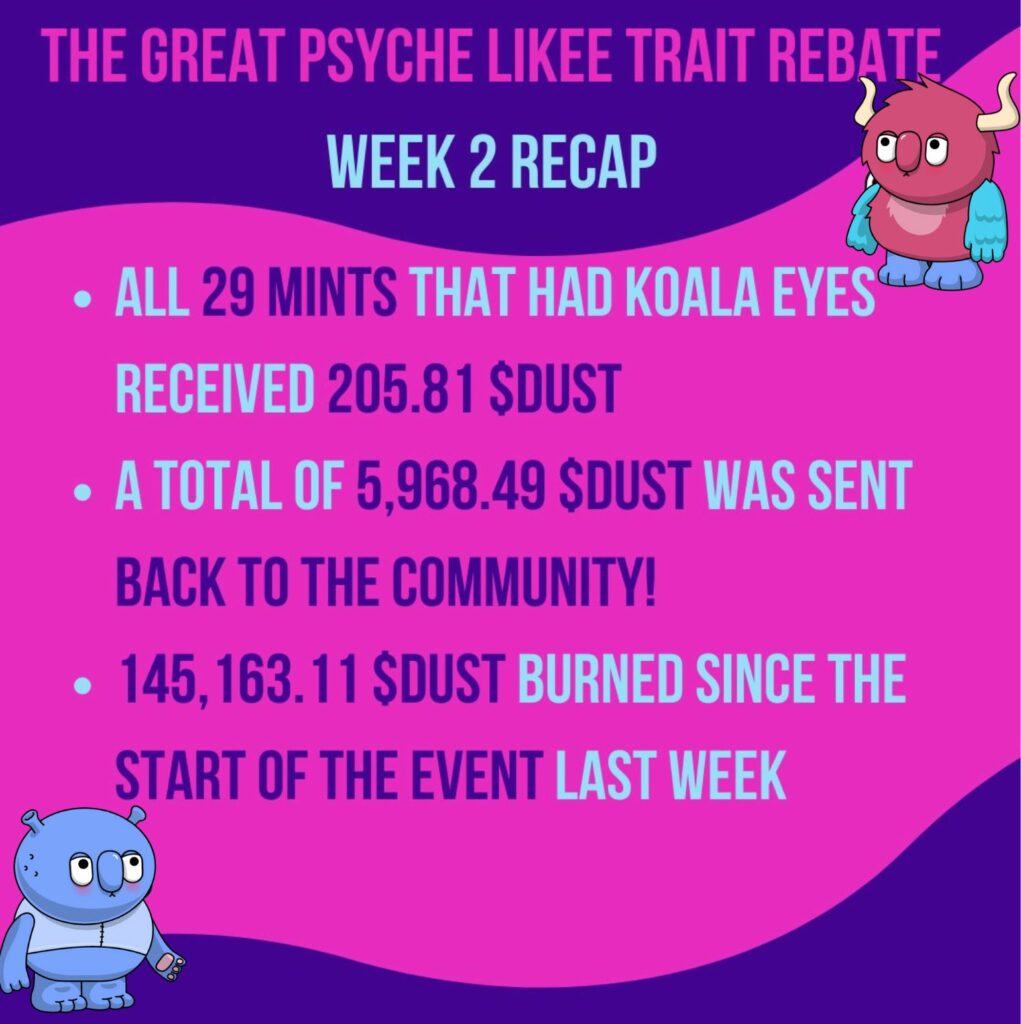 Make sure to check in on Tuesday for the next trait spin and get in on the fun. Throop's Dust contest has blown way up in size now because of the community being awesome. Many have volunteered to donate some more Dust to the prize wheel. If you are feeling generous, you too can add to the fun by filling out this Google form the Team has set up. Feel like buying some Dust to donate? Check out Increment Fi to swap into some Dust. Flovatar decided to match all of this giving with some prizes of their own. This will all culminate in an epic event because that's what Flovatar does. They party. Check out this night of fun.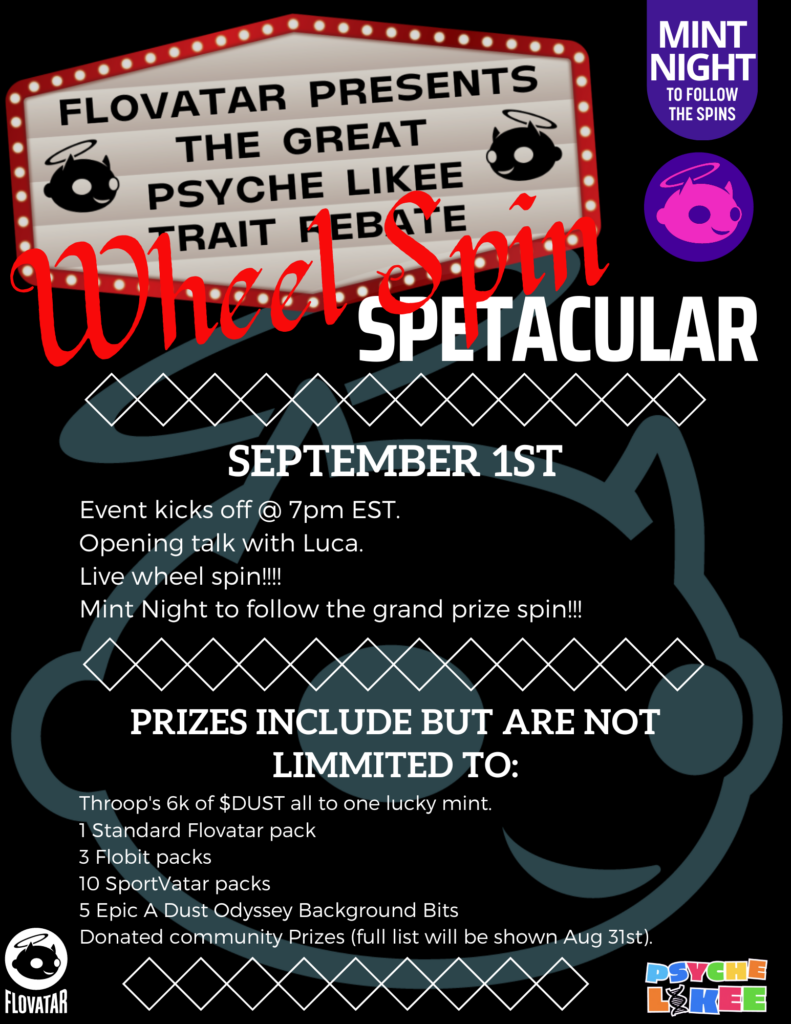 Holy prizes! A chance to get Luca to leak some alpha maybe? Mint Night returns! What kind of new degenerate group will form on that night? Maybe a Psyche Likee theme will emerge. All I know is that this left me as satisfied as a nice risotto.
As if all of this wasn't enough to get you excited for the coming weeks, Flovatar has even more in store for you. I was able to steal…I mean obtain… a sneak peek of an event flyer from the offices when I was visiting. Good god that's a lot of Bs. The only thing missing there is the best B word. Bourbon! What is this event? I guess we'll have to wait and see.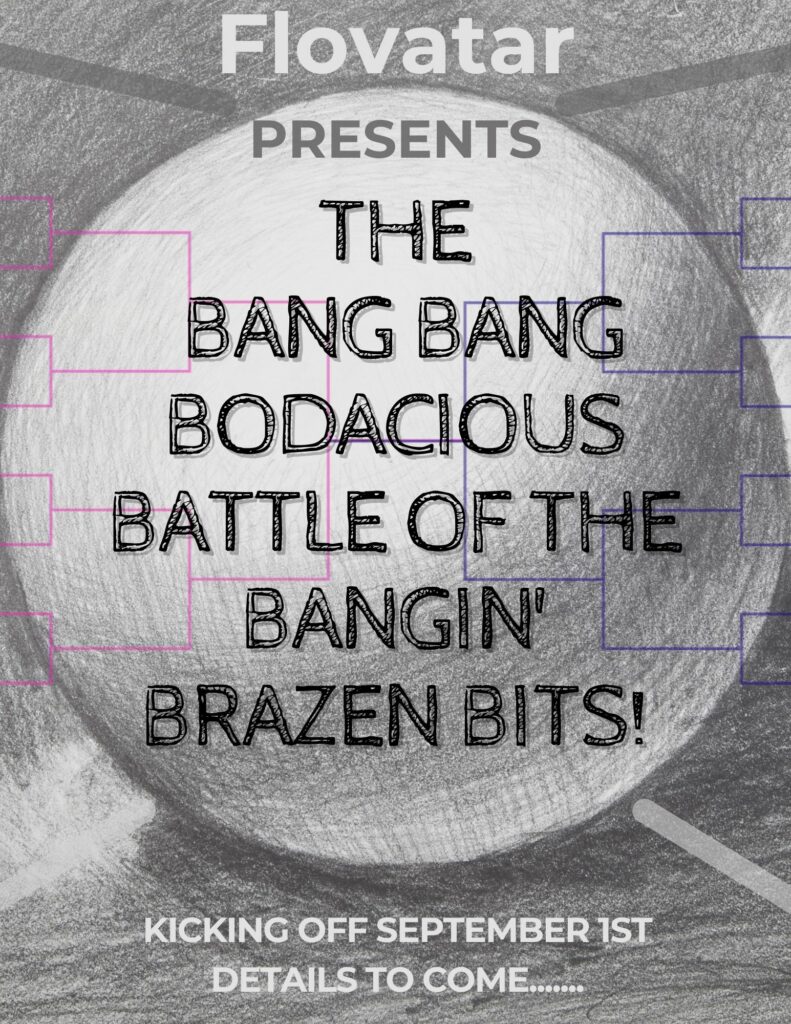 Well, this turned out to be a mouthful. Just the beginning of Flovatar kicking things up in the coming months. Let's not forget A Dust Odyssey is set to return very soon too. All of this excitement has me pretty spent and sleepy now. I think I'll have to smoke a cigarette after all of this. Thanks for shacking up with me for a bit today. This is Ron Flogundy signing off.
RON'S QUICK TRAVEL UPDATE
By Ron Flogundy (again)
Greetings all. Again. It seems that I have forgotten to mention my globetrotting endeavors over the last week. Luca sent me on a tour of the Megaverse with newly minted koala eyed Psyche Likee. That little fellow loved the trip. He was also a magnet for attention. I got several lovely ladies approach me on our travels. Should've had a pet a while ago. Anyways, I visited a pretty cool castle, a desert, and this underwater paradise. Apologies as I have still not figured out my camera and the art of the focus. Here's some snapshots I took in my snappiest attire from the trip. Enjoy!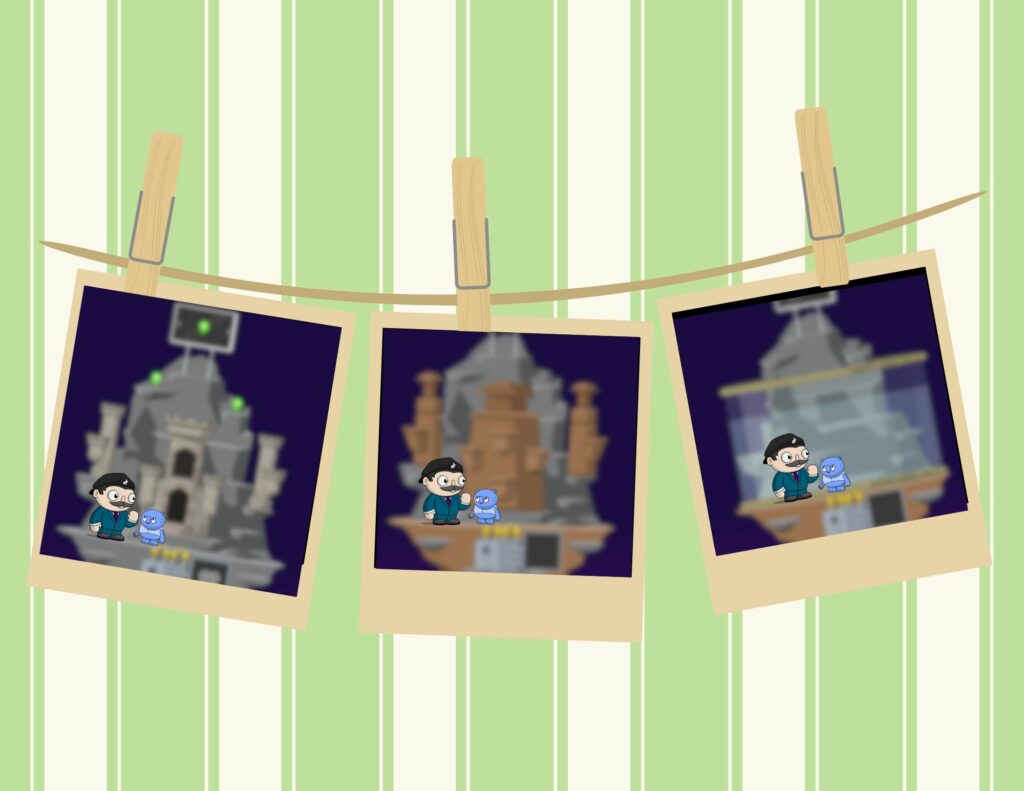 WHAT'S HOT AND WHAT'S NOT
By J. Peterman
Greetings from the picket line. I'm hearing word that the movie studios and the unions are increasing their conversations this week which means….I better get to work on that screenplay I've been meaning to write for the past three months. Whoops. Been too busy throwing eggs at executive's cars.
Since I'm short on time, this will be a quick roundup of the fashion I'm seeing on the Flova streets. What's on trend and what makes my eyeballs bleed. Here we go.
Hot: A Dust Odyssey Backgrounds:
Whether your Flovatar is taking a spin around a shopping mall, sorting through garbage, or drinking libations outside of Nostalgic Electronics, one thing is for sure; these new backgrounds put the YES in Odyssey.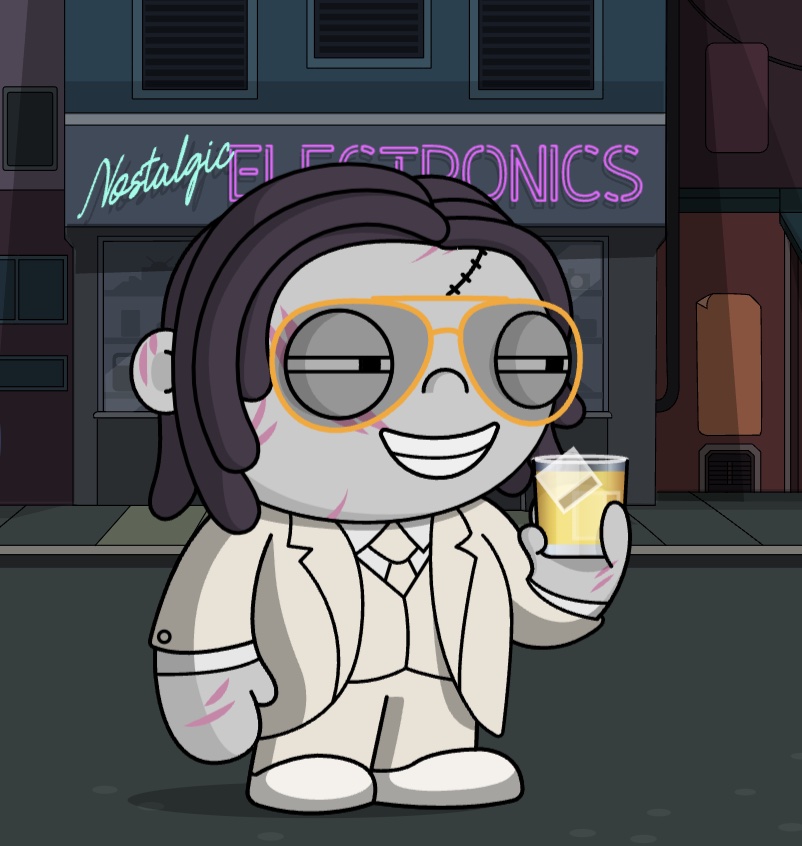 Not: Halloween Themed Crap in August
You spooky freaks keep trying to make this holiday happen before the summer is over. Not on my watch. Get your pumpkins and your broomsticks out of here. Later, witches.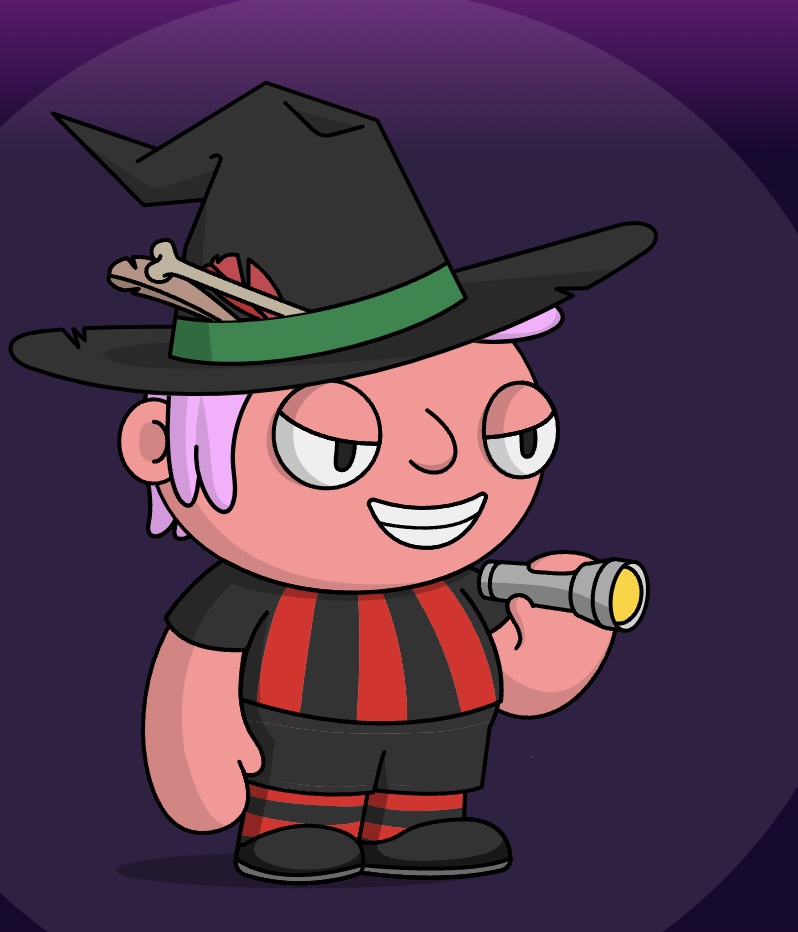 Hot: Pink
We're all just Barbie girls living in a Barbie world. This summer, pink is in and the more the better. Pink clothes, pink skin, pink hair, pink drinks (sorry, I think it's actually purple drink but you get the idea.)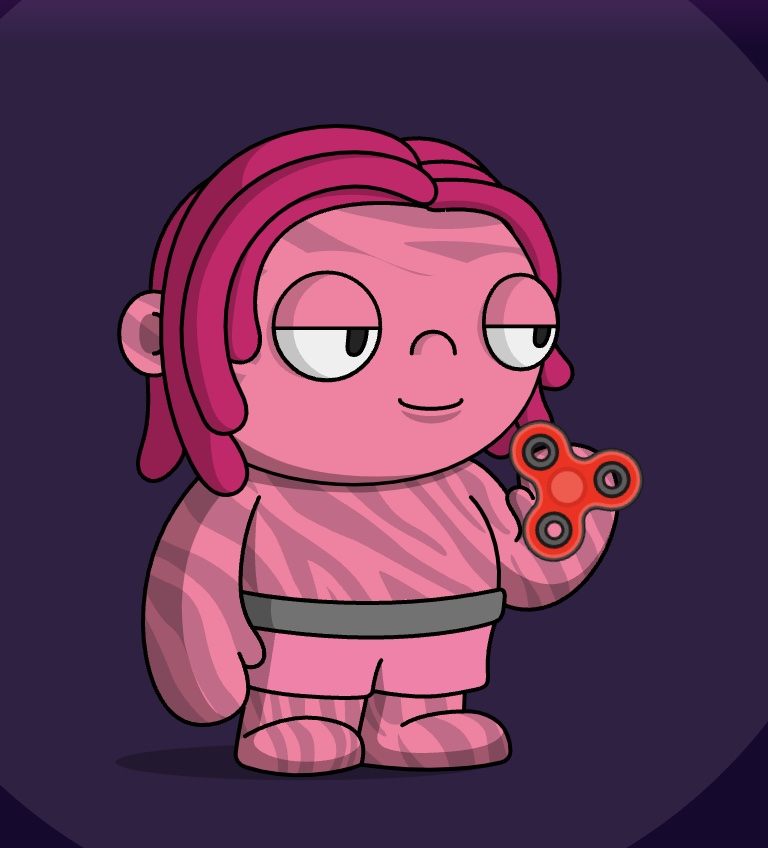 Out: Attire that Makes You Look Like You're in a Cult
Enough of this already. Unless it's the cult of Barbie, I'm not interested. Stop telegraphing to the world how gullible you are and put on some pants.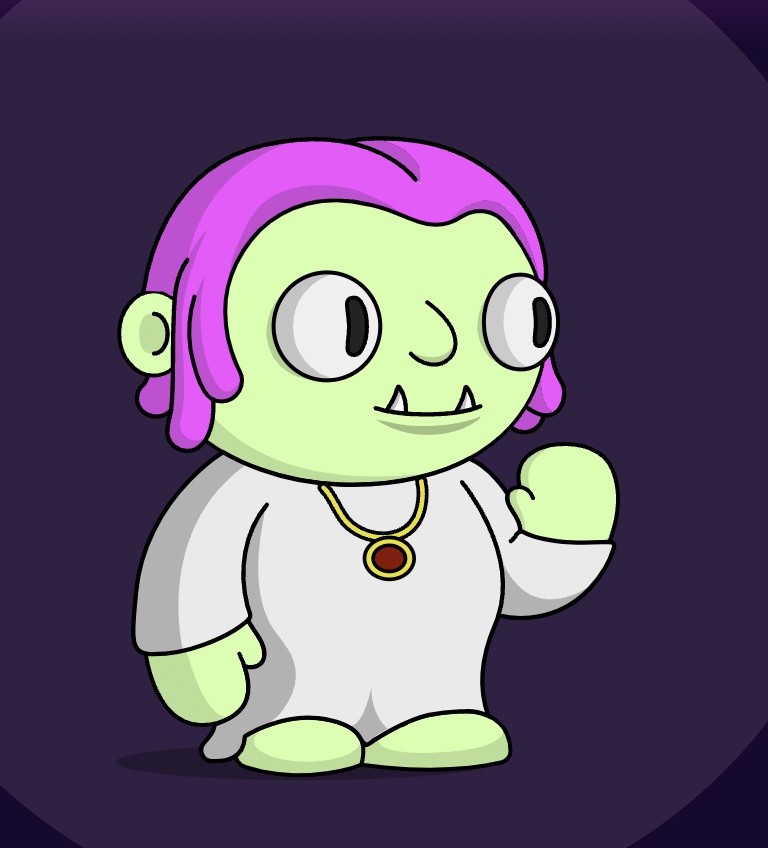 MUSINGS OF A FÜCH FAĆE
by Füch Faće McGee
Fantasy Football Szn is officially here! Like we mentioned last week, Flovatar will be hosting a Survivor League and all Flovatar owners are invited to join. There is no buy-in required. There WILL be prizes (the LARGER the number of contestsants, the HOTTER the prizes). And you don't have to know anything about football to play! The game is very easy (TWSS)…each week you hop on Yahoo and select a team you think will win. If they do, you survive to the next week. If they don't, you are out. Let's get it on!
The community reps will also be hosting standard Fantasy Football leagues. Invites have been sent out for the first 1K $DUST Flovatar League. Depending on the interest of YOU, the Flovatar owners, we will open up more leagues for different buy-in amounts. Make sure to join the conversation in the #fantasy-huddle channel in Discord so you don't miss out!
And now…the real reason all of you are here. Our whole lives have led us to this moment. It's time to crown a champion, and we've never been closer! It's time for that sexy Booble League update!
In the first series of the round, the threesome of Oldedb, AarynEh and Big J were too much for the red-hot Bot to handle as the Border Hoopers undressed Flovatron on the way to clinching a spot in the Bobble League finals. After a shaky start in a 3-1 opening game loss, Team Captain C-3PFlo forced a deciding game with his own 3-1 victory in game 2. In game 3, the Bot came within a goal of knocking off the Hoopers, but was defeated after a 2-0 finish by the trio.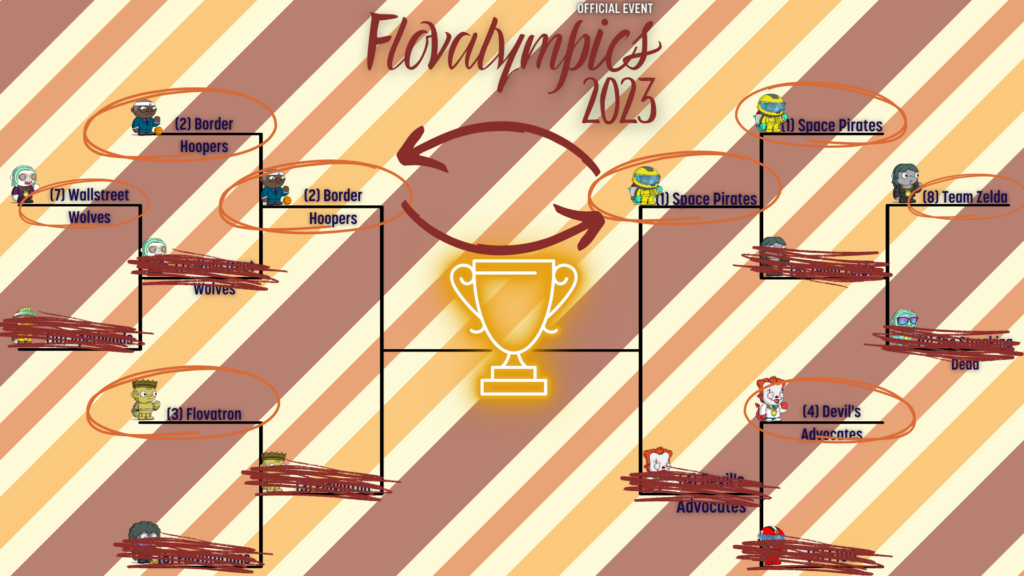 After a tension-filled scheduling session on the other side of the bracket, the Space Pirates and Devil's were finally able to come together to play for a spot in the 'ship. As far as the score goes, or any in-game drama, this Füch Faće has been left completely in the dark. It could have been 6 to 9 for all I know. But perhaps the score doesn't even matter. Perhaps the real score was the friends we made along the way.
So it'll be the Hoopers vs the Space Pirates for all of the Bobbles. The top two teams from POOL PLAY will meet up for Bobble League bragging rights. The teams split their in-season series, so it'll be anybody's game when they meet up in the 'ship. Will the Hoopers be able to penetrate the Pirates defense? Or will JP and Purple Rose deny consent to the trio of Hoopers in this clash of Trojans? Find out next week-ish!
Well I don't know about you, but I'm completely spent! So that'll be all for this week's titilating version of Musings! Stay hydrated out there, Füchos! And we'll see you next week!
F.U.D News Staff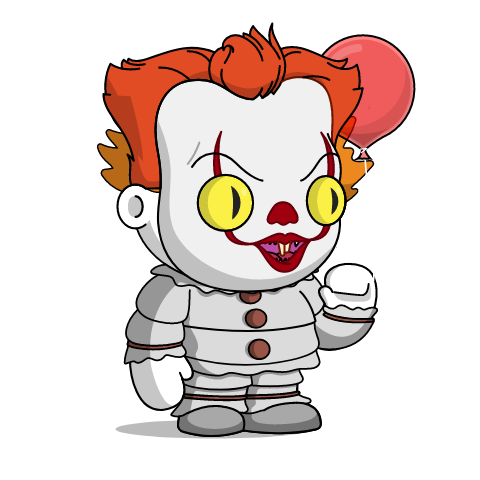 Pennytar- Founder & CEO
Straight from the circus, he was just clowning around one day online and stumbled into this wacky, low budget, and sarcastic news outlet.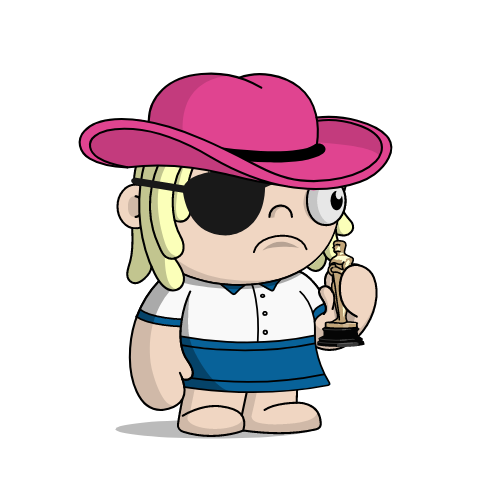 J. Peterman- Chief Sarcasm Officer (CSO) / Fashionista
Once a top level executive at a clothing catalogue company, she finds herself here after an epic fail of an invention. The Urban Sombrero bankrupt the company in spectacular fashion. She now takes sarcastic jabs at outfits worn by flovatars with a better fashion sense than her.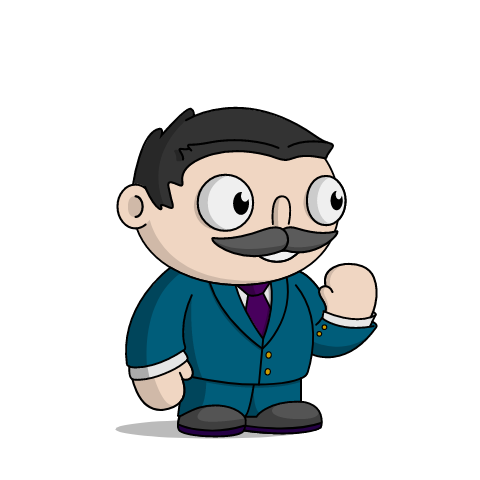 Ron Flogundy- Lead Anchor
After being fired from a reputable news source, Ron found his way into the F.U.D News room. He gave the media outlet a look of credibility when there was none.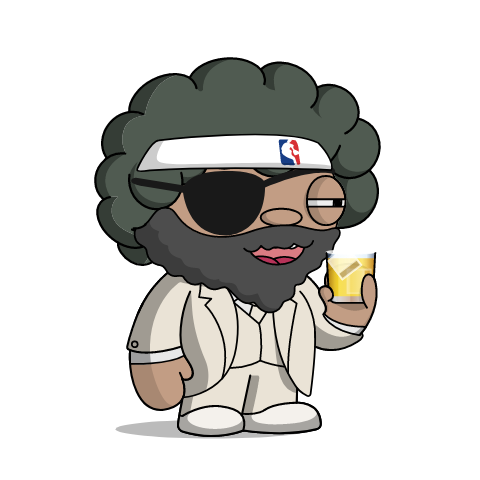 Füch Faće McGee– Head of Sportsball Division/Flovalympic Reporter
This Bulgarian-Irish born sports genius made a name for himself by having 1 too many whiskeys while trying to interview the Irish rugby team after a loss and causing a locker room brawl. Naturally, was a must hire for F.U.D.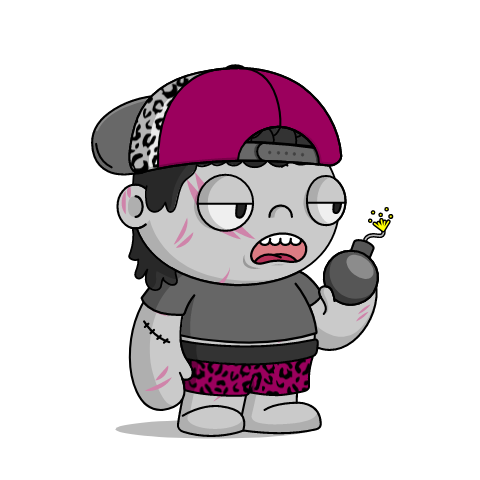 Kid Chaos- Resident Movie/Horror Correspondent
Not sure where this mysterious dude came from, he kinda showed up out of the shadows. If you need any movie or horror input, he's your guy. Just don't get too close to him or make any sudden movements.