THE MALL: A MAGNIFICENT DISASTER
By Ron Flogundy
Hello loyal followers. It's your star news anchor Ron Flogundy, back again for this week's entertainment — I mean hard hitting journalism. I spoke with my Flovatar inside sources and was told to expect some "stuff" very soon and to quit poking around. I know, I know, I always have the inside scoop.
Apparently, the team there is diligently working hard on some things in store for us all. So with that being said, I took the extra time this week to explore a foreign place to me; the mall.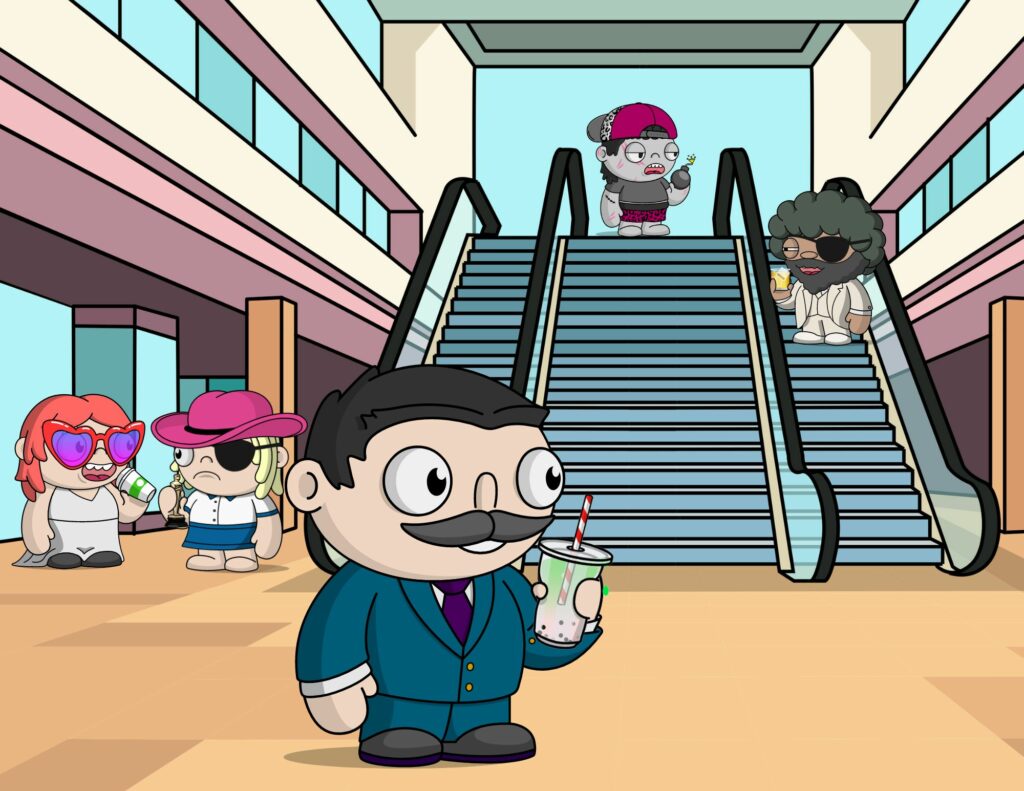 The episode in A Dust Odyssey where the Flovans explored the fantasy land of Shopping Mall was one of my favorites. Imagine my surprise when I found out these places were real. Looking for an adventure of my own, I decided to drive to one. Turns out most of them are closed or full of tumbleweeds. After several hours, I was able to find one that was still operational.
When I walked through the main entrance, I was in sensory overload. There were stores as far as the eye can see. People were walking from store to store, holding bags full of junk they bought. Who the hell walks into stores anymore? Haven't they heard of Amazon? I thought to myself, these are the people who are probably less fortunate and cannot afford an Amazon Prime membership. They are forced to physically come and shop. What a horrible life. I should start a charity organization for them. I'll call it, the Human Fund.
After wandering through a section of stores, I came across one of the few delightful things in this building of sadness. The food court. I have never seen a place like this. All these amazing dishes from all corners of the world. I had the chance to sample some classic New York style pizza from Sbarro's. I saw this recommendation from a friend of mine.
I wasn't about to stop at NY pizza. There was top notch cuisine from all corners of the world. I sampled some tasty Chinese food from a place called Panda Express. They made sure to tell me there was no rat meat in the orange chicken. Not sure why that was necessary to say.
Then I hopped over to try some amazing Mexican food at a place called Chipotle. Nothing like delicious, authentic Mexican to hit the spot for Ron. After Chipotle, I needed to rush to the nearest restrooms to, um, make some room for more delicious delicacies.
Once I cleared out some space (thanks Chipotle), I decided to end my dining with a nice, healthy dessert. I strolled over to Jamba Juice and had a peanut butter chocolate banana smoothie. I never knew something so healthy can taste so good.
After satisfying my cravings, I stumbled across a movie theater. I didn't know these still existed. But again, I had to think about all those poor people who cannot afford Netflix. This must be their only, sad way to watch movies. I decided act like it was the year 2000 and take in a movie the old fashion way.
My seat was ripped. There was gum underneath it. My expensive leather shoes were sticking to the floor for some reason. Someone was watching YouTube. How do people enjoy this? I prefer being in my soft robe, bourbon in hand while sitting on my fancy recliner. No one does movies like Netflix.
Anyway, I had heard so many good things about Oppenheimer that I took this chance to watch. I realized how little about history I know. Who has time to read boring history anyway? That's what movies are for. I didn't know Oppenheimer's first name was Barbie. Nor did I know that Oppenheimer was female and had a boyfriend named Ken. I will say that her boss was incredibly good looking. I know I'm not supposed to have my phone out in the theater but I snuck it out to snap a photo of him. I wish I had remembered to turn the flash off as a group of 13 year-old girls screamed at me for ruining their experience.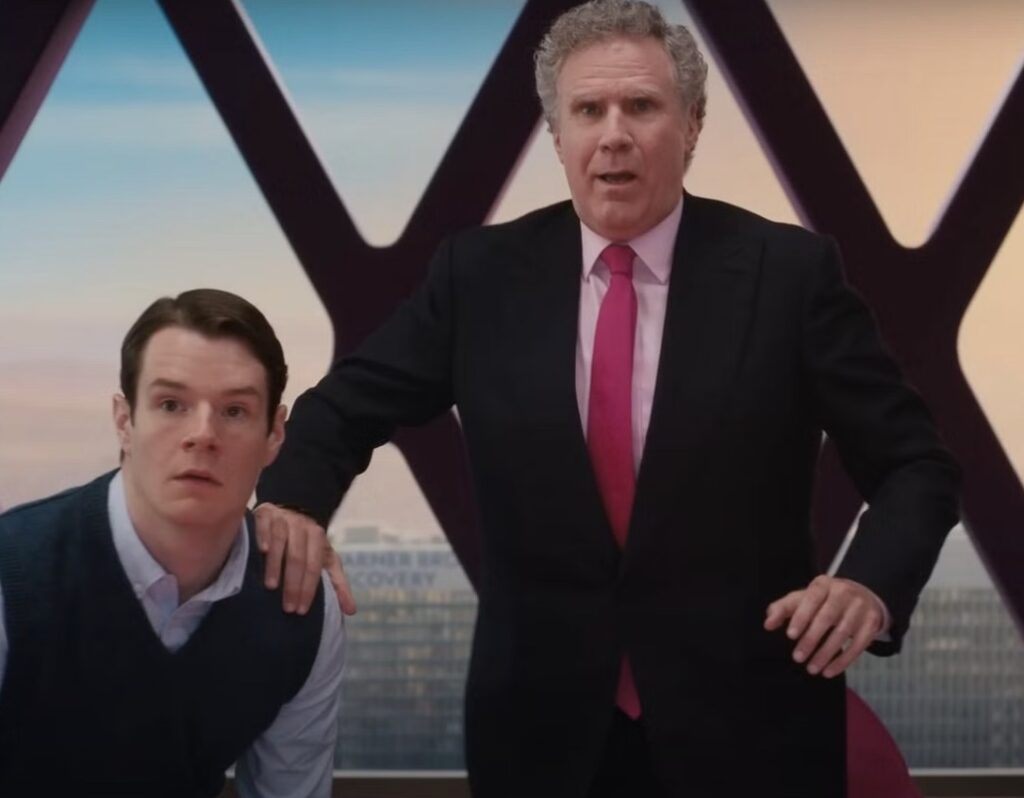 I thought the movie was fine but I prefer a good war biopic or something more explosive. Maybe something with a bunch of old men arguing in closed rooms. Wish there was a movie out now that had those elements.
After the movie, I was pretty wiped. I decided it was time to leave and head back home. I had enough of slumming it with the common folks. On my way out, I came across this store name Brookstone. This place was full of cool gadgets and gizmos. My eye caught this massive reclining massage chair. It reminded me of classic moment from a great show.
I decided to give it a try. What a joy! I was so relaxed that I must've fallen asleep until being rudely awakened by an employee tossing me out the front door. She yelled at me for "getting off" on the massage chair. Didn't make any sense. That pretty much ended my desire to be there anymore.
My conclusion is that these malls are disasters. Old, out of date, and full of sad people. If only they knew about internet and subscriptions, they would never have to come here and shop like people did 20 years ago. Ron will never set foot there again. Thanks for coming on this journey with me this week folks. Next week, I'll be back to cover all things Flovatar again. I have to go shower now to rid myself of these mall smells.
MUSINGS OF A FÜCH FAĆE
by Füch Faće McGee
Let's get ready to BOBBLE!!!!
With the long, grueling regular season finally wrapped up, it's time to ramp up the intense competition with our very first Bobble League Championship Tournament!
To recap, the Space Pirates finished the inaugural season in 1st place and earned a first round tournament bye for their efforts. Team Flovatron had a late-season surge to finished tied with the Border Hoopers for 2nd where the two teams also earned first round byes.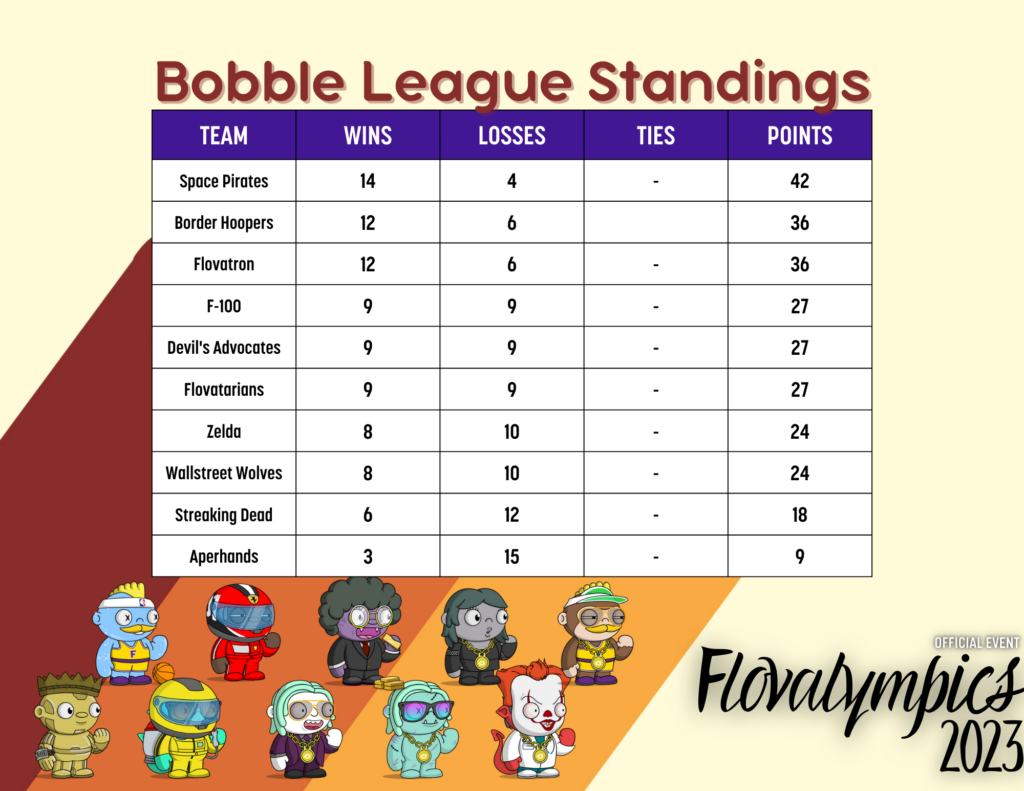 Below them was a cluster of mediocrity as the Devils, Flovatarians and F-100 all finished with less than inspiring 9-9 records. As unexceptional as these teams proved to be, they all managed to earn the final 3 first round byes of the tournament and will avoid the possible epic choke-job of an early embarrassment.
Speaking of embarrassment, four teams will face-off in the first round of this Championship Tournament. On one side of the bracket, the Wallstreet Wolves will face the Aperhands in a loser-goes-home best of 3 series. While Team Zelda and The Streaking Dead will square off on the other side of the bracket. These four teams will have a week to schedule and play their games. The two winners will advance in the bracket, while the losers earn the right to never have to schedule one of these god forsaken Bobble League matches ever again. Good luck, teams!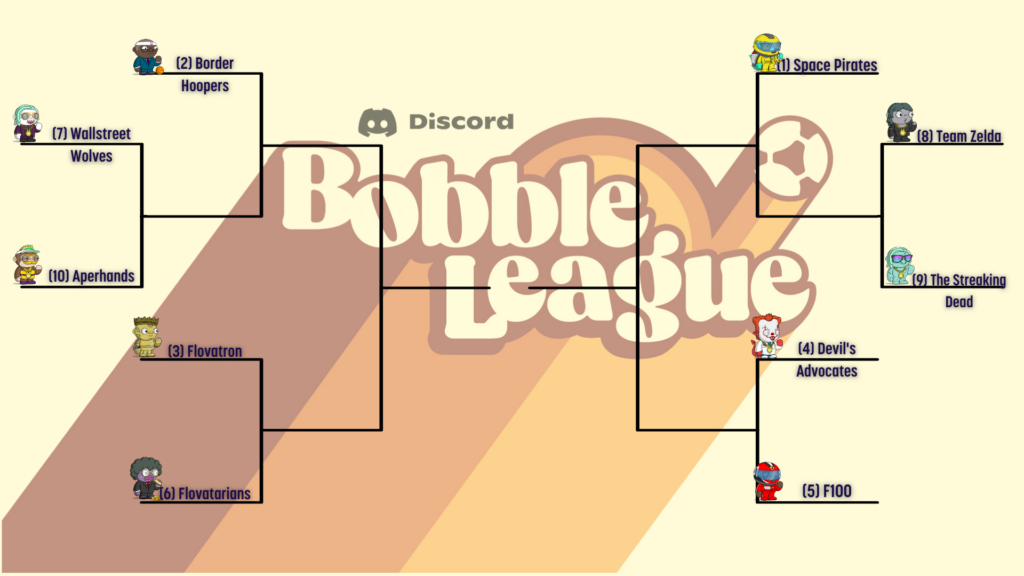 Are you ready for some Fantasy Football?!
The details still need to be ironed out, but we here at FUDNews wanted to generically announce that in some form or fashion, there will be several Fantasy Football options for the lot of you this fall. Standard leagues, survivor leagues, leagues with a buy-in ($DUST maybe?!)…we love all the leagues and we can't wait to play in a league full of auto-drafted teams because you and half of your league-mates will inevitably forget about the scheduled draft time! If you are interested, please let the us know in the #fantasy huddle channel in Discord so we can get a head count. Stay tuned for more news on this SOON!
Thanks for making it to the end, Füchos! Next week we'll have an exciting Bobble League and Flovalympic update. And we'll have news to share on the end of the Alpha .1 season for Flovatar MFC, jinxes be damned! You won't want to miss it!
F.U.D News Staff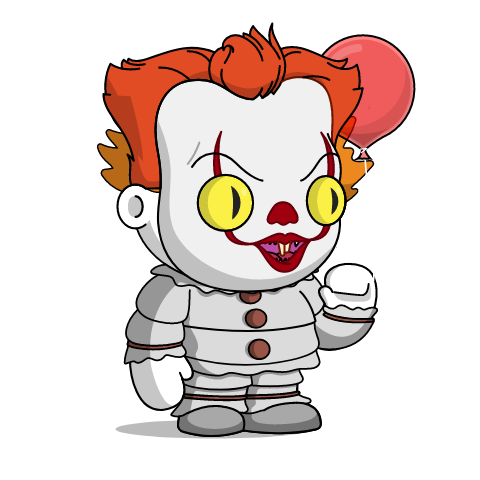 Pennytar- Founder & CEO
Straight from the circus, he was just clowning around one day online and stumbled into this wacky, low budget, and sarcastic news outlet.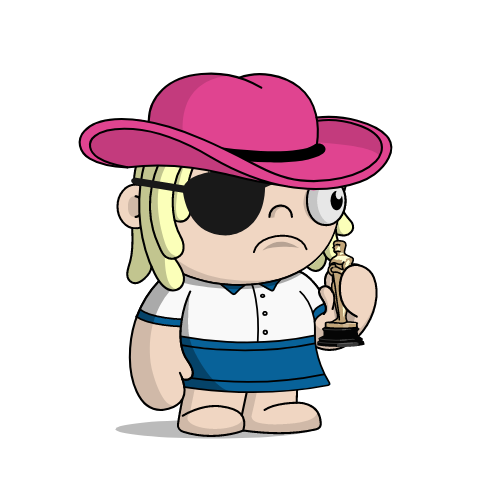 J. Peterman- Chief Sarcasm Officer (CSO) / Fashionista
Once a top level executive at a clothing catalogue company, she finds herself here after an epic fail of an invention. The Urban Sombrero bankrupt the company in spectacular fashion. She now takes sarcastic jabs at outfits worn by flovatars with a better fashion sense than her.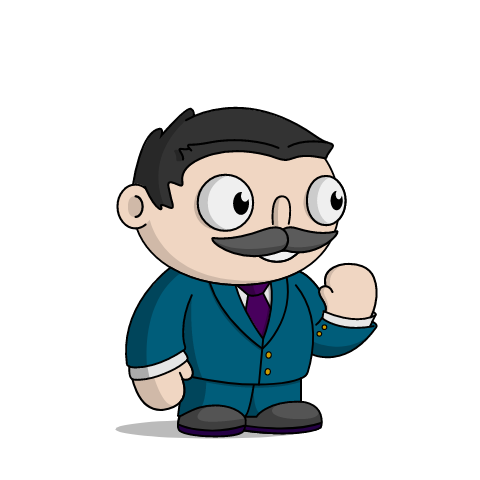 Ron Flogundy- Lead Anchor
After being fired from a reputable news source, Ron found his way into the F.U.D News room. He gave the media outlet a look of credibility when there was none.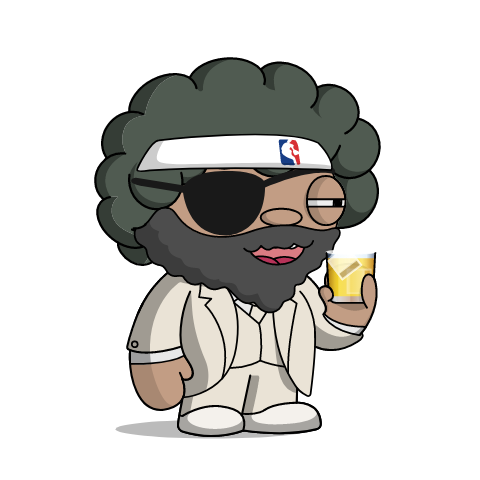 Füch Faće McGee– Head of Sportsball Division/Flovalympic Reporter
This Bulgarian-Irish born sports genius made a name for himself by having 1 too many whiskeys while trying to interview the Irish rugby team after a loss and causing a locker room brawl. Naturally, was a must hire for F.U.D.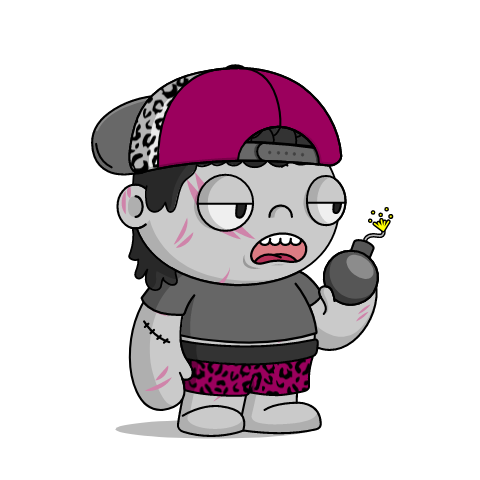 Kid Chaos- Resident Movie/Horror Correspondent
Not sure where this mysterious dude came from, he kinda showed up out of the shadows. If you need any movie or horror input, he's your guy. Just don't get too close to him or make any sudden movements.