ALLITERATION AND….
By Ron Flogundy
Greetings, gracious and gleeful group of great (sometimes greedy) fans. Ron Flogundy is back this week with all the notable news you need to know. I'm sincerely sorry for all the similar sounding syllables seen here today. Flovatar's Fantastic Friday Funday has me feeling full of f*%$ing energy. Let's get started with this week's fun.
Last week, Flovatar teased its new contest titled The Bang Bang Bodacious Battle of the Banging Brazen Bits. That ridiculous title is what sent me diving deep down into the dictionary. But I digress. The details of this brand new contest are finally out and it's going to be a fun one. Once again, Flovatar is looking to you for ideas on fantastic fresh flobits in this bracket style challenge. Time to showcase your ideas for a shot to have your flobit be the next legendary to be added to the collection.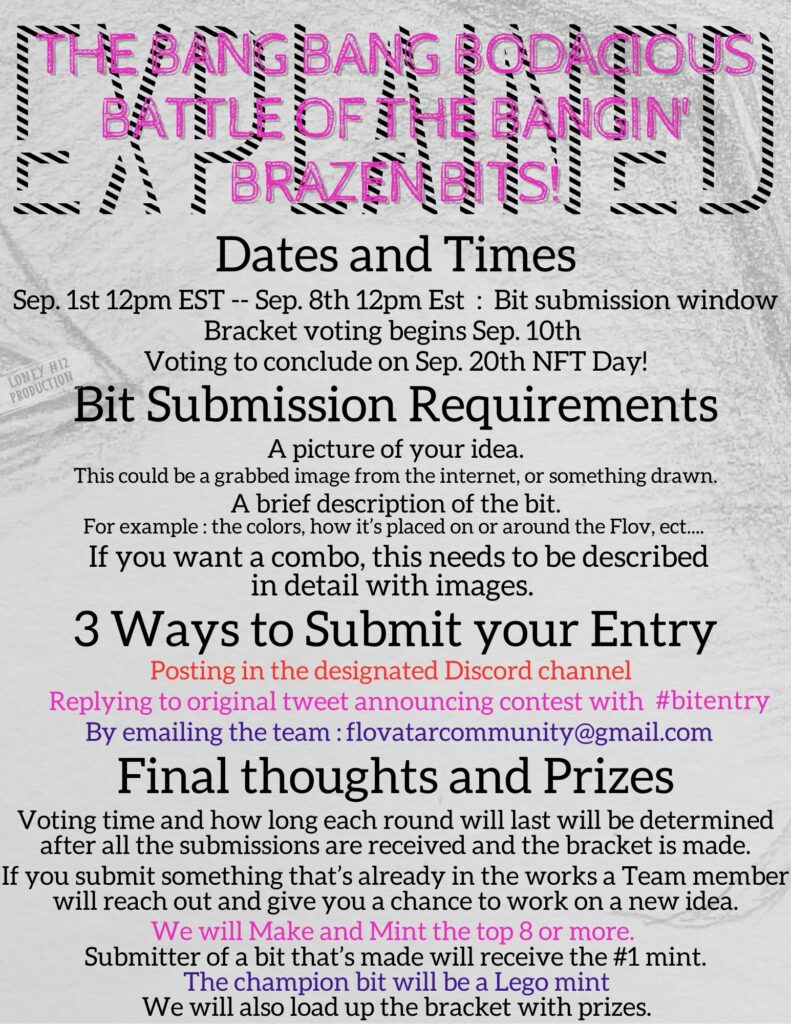 This has me thinking that I need to enter. I have a great idea for a flobit. I actually have many. What would my fans want the most? Obviously more of me! I am going to propose a framed picture of everyone's favorite news anchor as a new legendary bit. This will of course trigger a combo. Once you hold this precious piece of fandom, a well trimmed, bushy, Ron-like mustache appears on your face so you can be even more like me. I gave it to Peterman as a test run. As you can see, she was thrilled.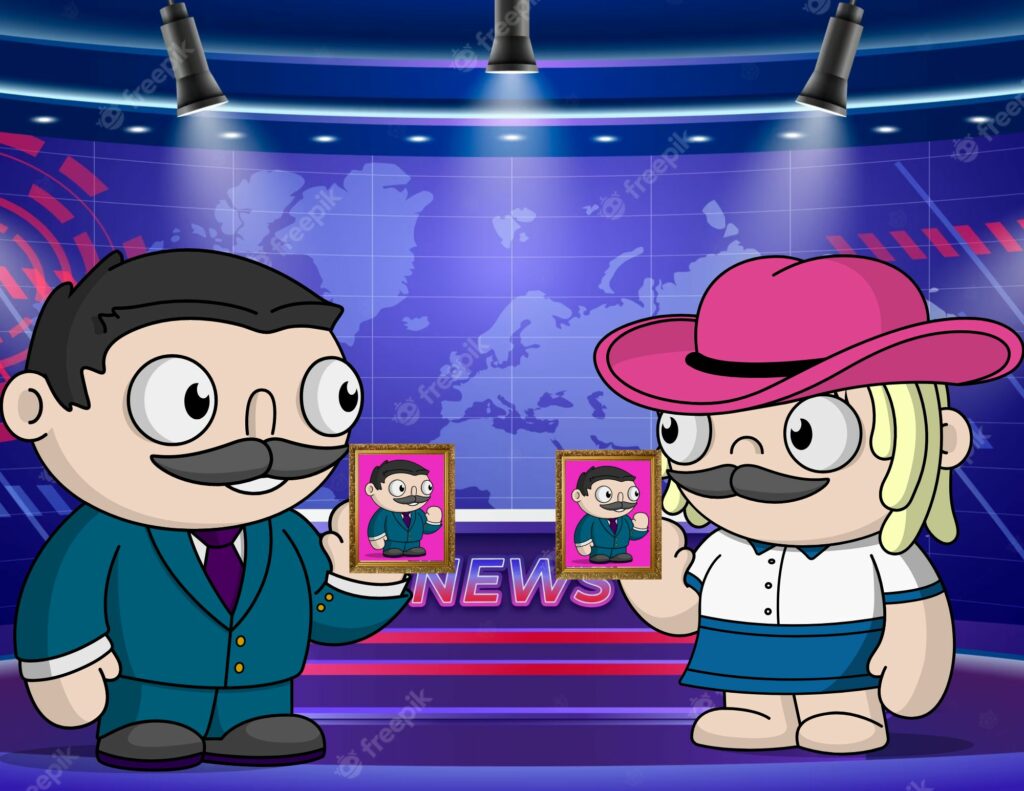 In other exciting news, A Dust Odyssey finally returns today! This cast of characters has been on hiatus for a few weeks but they're back today. Missed the first 10 episodes? Where the hell have you been? Luckily for you, I have been on top of this and am here to fill you in on what you missed with my expert first half summary.
"A Dust Odyssey" follows the adventures of a teenager named Gellan who, with the help of eccentric scientist Franklin's time-traveling DeLorean car, accidentally travels back to 1955. In a race against time, Gellan must ensure his parents' romance while avoiding altering the course of history before he can return to his own time.
Sums it up well right? Not even ChatGPT can write such a concise, precise summary of the pod. What's that Peterman? Back to the Future? Never heard of it. Hold on, show me a scene from that movie…
I mean, yeah. This was a total joke to just test the audience if they were paying attention. I'll summarize the real podcast now for those that forgot what's happened so far. Ahem…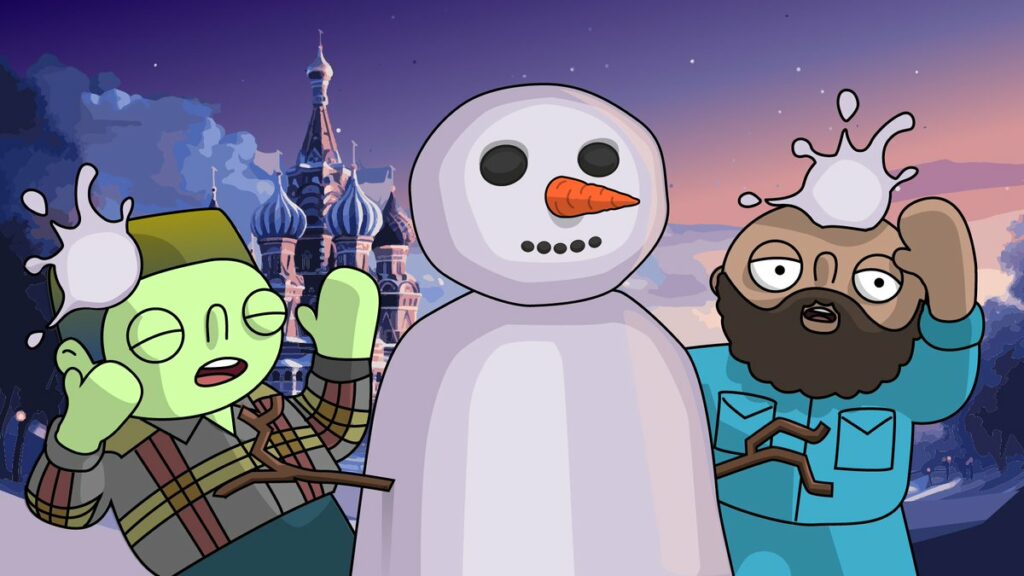 "A Dust Odyssey" is a science fiction podcast that explores the journey of a space mission to Jupiter, guided by a mysterious monolith and accompanied by the enigmatic artificial intelligence Big Dada. As the crew grapples with the evolution of human consciousness and the dangers of AI, the story delves into the profound intersections of technology, humanity, and extraterrestrial intelligence.
Nailed it. There you go folks. A perfect summary of the pod that is way better than what something like ChatGPT would put out. Say what? A Space Odyssey? No, moron. The podcast is called "A Dust Odyssey?" Peterman is over here telling me that this is from something called A Space Odyssey. Not knowing what you are talking about is so unprofessional Peterman. Prove it or shut up.
Fine. You sci-fi nerds caught Ron. Last time I try to use ChatGPT for any help. I'm not fluent in dork speak so I relied on nerdy tech stuff to help. Just go back and listen to the episodes on YouTube, Spotify, or whatever your favorite streaming source may be.
Don't forget the big prize wheel event tonight starting at 7PM ET followed by a Mint Night Club meeting. In closing, I leave you all with this sendoff. Another astonishingly ambiguous article, artlessly aimed at appeasing avidly awaiting audiences' appetite for actual answers. Ron out.
THE ACTUAL PODCAST RECAP
By J. Peterman
As I'm sure you can tell from the article above, Ronald must have been braiding his beard while he listened to A Dust Odyssey. And of course as a man, he can only multi task when it comes to eating chicken wings and yelling at 19 year old football players to run faster.
For those of you who may have started the podcast but didn't get through all the episodes or if you listened to all of them but need a refresher, I've got a quick summary for you so you know where we are.
Here's our main group, our fellowship if you will. From left to right is: the FL01D (a droid), delinquent Pol, his former best friend and cadet Gellan, lead scientist Rae Franklin and and mysterious fugitive Nick (aka Nostos).

Oh, and young navigation officer Fasco, who must have missed the call time for this group promo photo.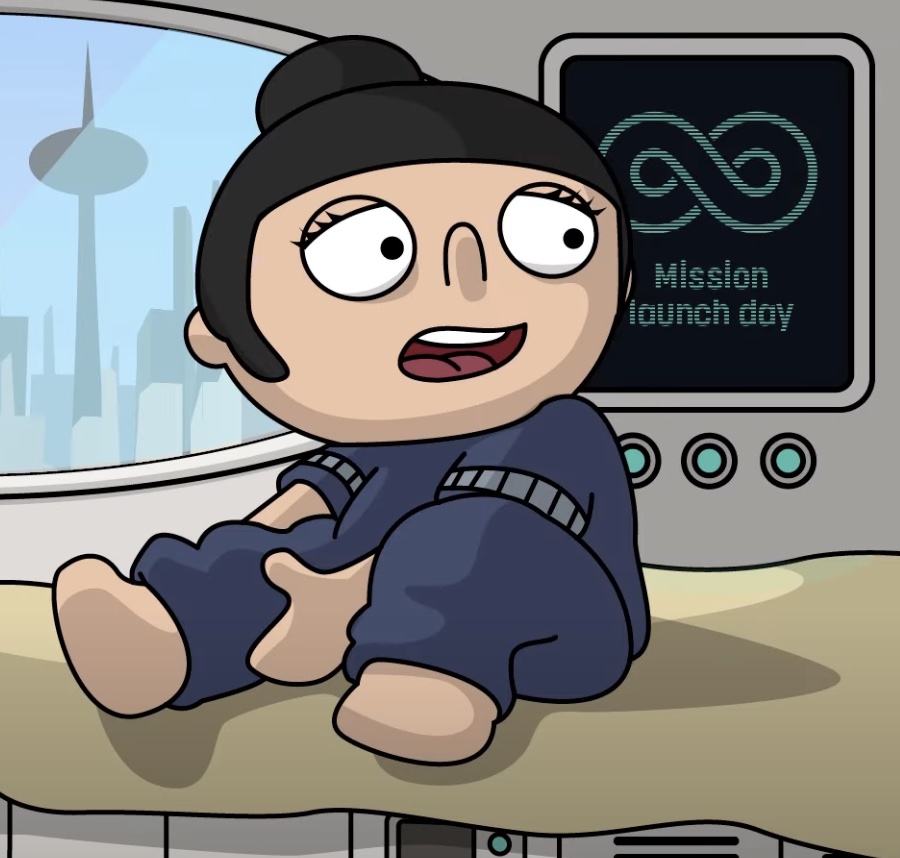 They traveled to Earth in spark form in order to bring advanced technology that runs on Dust to a new planet. Franklin is also supposed to analyze how Dust behaves on Earth. Or so she thought.
When they land on Earth, in a garbage dump I might add, they notice physical changes in their bodies. Some of them have changed colors, FL01D now does the opposite of whatever he is commanded and Pol can smell Dust.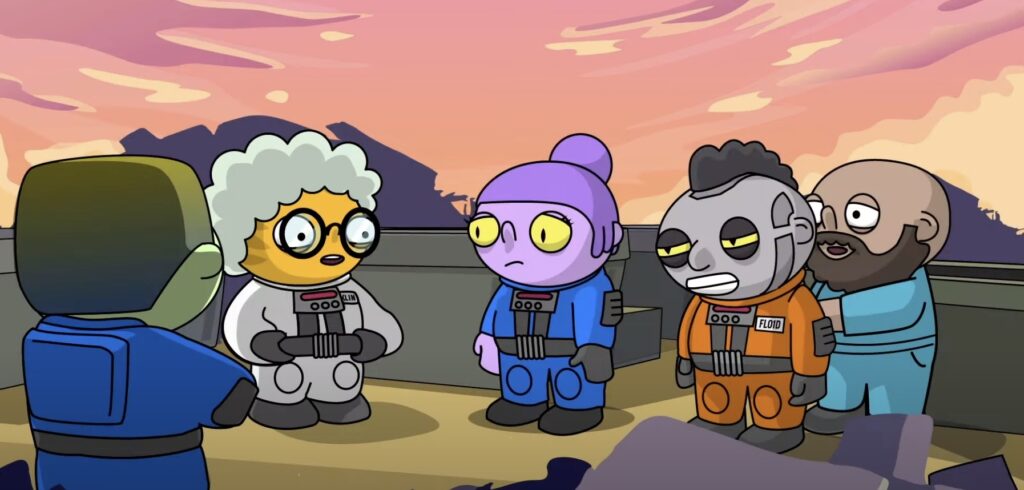 After some investigation and a series of Earth blunders, they discover that this mission has ulterior motives. Damus, the founder of Flova Labs, hasn't sent them on a benevolent mission at all. He needs them to harvest Dust and bring back as much as possible. Dust levels on Flova may not be as high as Flova Labs is telling their citizens. But how do you generate more Dust?
The other question is about Nick. Why is he the only one without a transit suit? Why does he know so much about Earth? Franklin doesn't trust him but her Assisted Thought device — the way all Flovans make their decisions on their home planet — struggles to recalibrate to Earth and for the first time, the Flovans have to navigate on their own.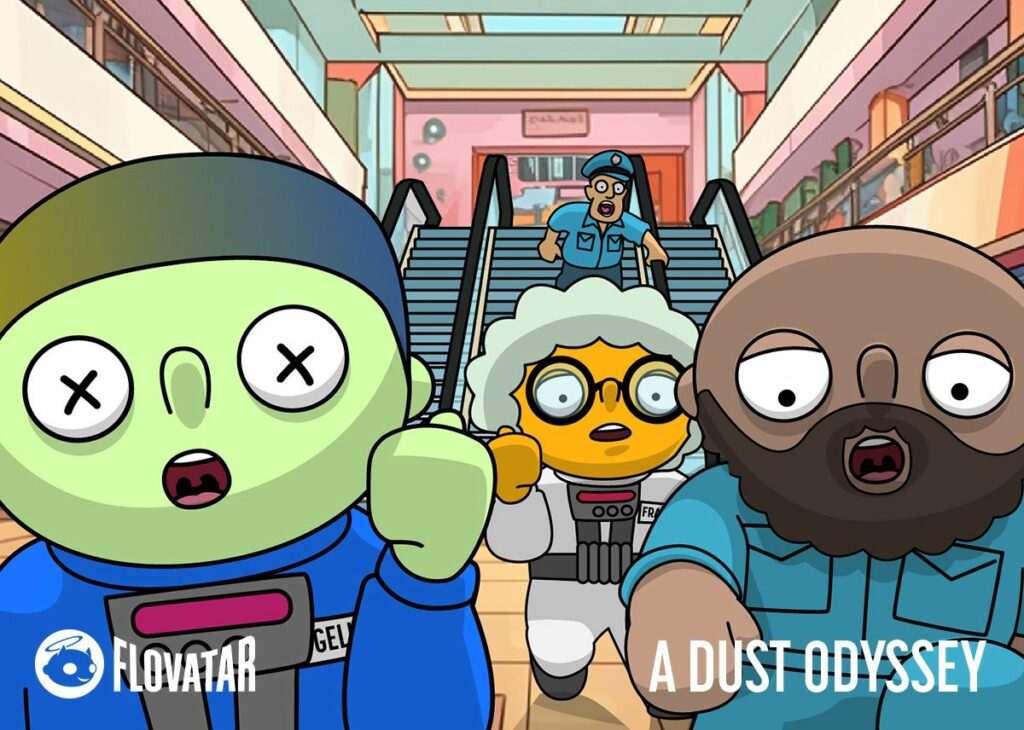 After discovering a curious tech store, and a hilarious jaunt to a shopping mall, Nick is forced to tell the truth. His real name is Nostos and he was the co-founder of Flova Labs, who was cast out after refusing to continue dictating Flovan's every move with Assisted Thought. He's been living on Earth for 20 years and he's been trying to hack an original Game Boy to travel back to Flova.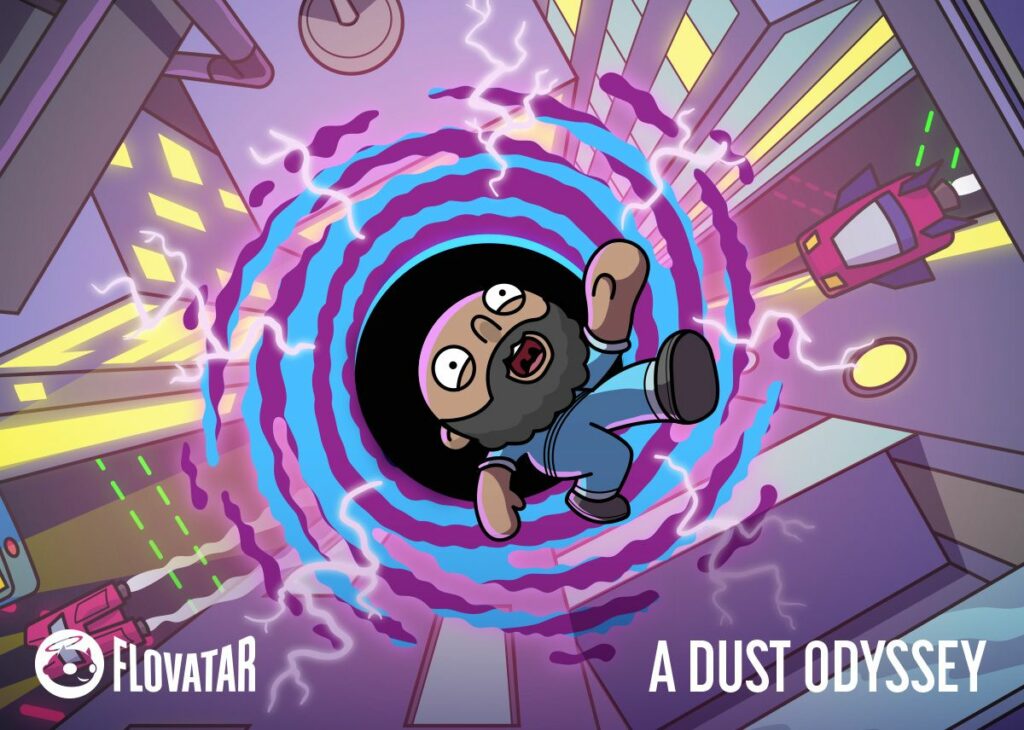 Back on Flova, Damus tries to track the live stream of the group for his other sinister motive — finding Nostos and making sure his story never reaches the ears of Flovans. Reeno Franklin, Rae's mother, is his only confident but even she doesn't know the disturbing plans Damus has in store. And then there is the little problem that Fasco's Pysche Likee is behaving very strangely, almost like she knows her Flovan is in trouble across the Megaverse. Her little brother Spuck picks up on this and decides to bring the Likee to Flova Labs for investigation.
When the Gameboy is finally hacked, the Flovans decide to embark on another journey — one through through time and space as they land in 1980s Japan to meet the inventor of the Game Boy. (I love their new outfits by the way, they are so down to Earth if you will.)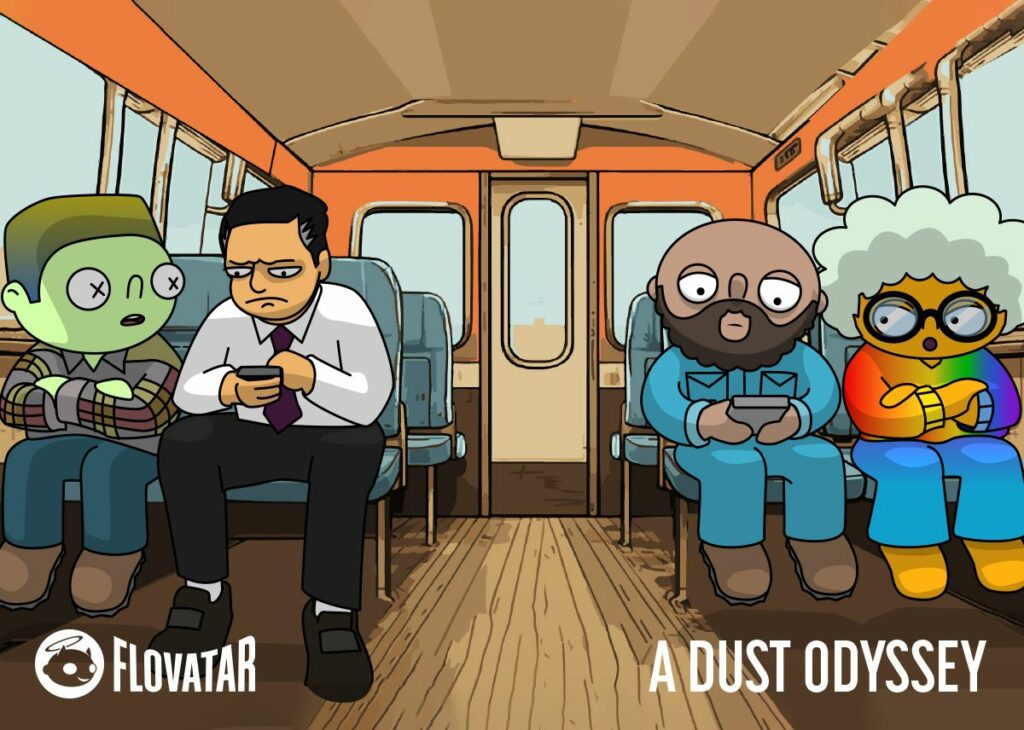 They discover how a mysterious element was integrated in a few original consoles and set their sights on soviet Russia to meet the inventor of Tetris. Before they can all travel through the porthole, it closes and Fasco and FL01D are left behind….
And that's where we left off! I have so many questions. How exactly is Dust created? Will Pol and Franklin kiss already? I can't handle the tension. What is Damus going to do to the Pysche Likee if it ruins his plans? Well, we don't have to wait! Episode 11 is out now and it's called….The Da Vinci Coder. Wow, the writer of this thing really is smart with the titles. I think she (or he) deserves an award.
MUSINGS OF A FÜCH FAĆE
by Füch Faće McGee
What's up, Füchamaniacs?! Football is in the air and Flovatar spent the first part of this week doing some full on SPORTSING! The Flovatar 1K League held it's fantasy football draft on Tuesday evening and in this edition of Musings we're going to take a look at half of the teams in the league and talk about how they drafted. So sit back, relax, and let these draft grades wash over you…
KushNCoins – When it was time to hand out grades for the draft, Yahoo.com awarded Kush with the league's highest mark – an A+ with a projected 13-1 record for the season. And within 48 hours the team's 1st round pick strained a hamstring in practice and is now considered day-to-day. Probably no big deal. It's not like hamstring injuries linger or anything. You're fine, Kush. Everything is fine!
Charles's Champion Team – For a team to go 13-1, you're going to have to have some really dreadful teams at the bottom of the standings. Enter Charles's Champion Team, who Yahoo has projected to finish 1-13.
Have you ever heard of the Zero RB draft strategy? When Charles showed up to the draft, he went ALL RB by using 5 of his first 6 picks on running backs. With the ability to only start 4, he followed the old adage of "it's never to early to start stacking your bench!" And at quarterback, the Champions will be led by a guy that had reconstructive elbow surgery earlier this year. (Do you really need an ulnar collateral ligament to throw?) The good news? Charles should have plenty of opportunities to improve his team with an early waiver wire spot!
Cowboys Suck – A team name that mirrors it's roster. Yahoo gave this draft a D- and I think that feels pretty generous. Turkey started off by auto-drafting Christian McCaffrey. Can't knock the pick, but how reliable could a 27 year old running back that has missed 22 games over the last 3 seasons be? He did play all 17 games last season, but that's normal right? To get healthier as you get older?
Turkey grabbed his top running back in the 3rd round when he drafted Justin Fields. Fields averaged a higher yards per rushing attempt than either of his starting running backs and almost doubled up his RB2, Rachaad White. Any time you can draft a running back that averaged 3.7 yards per attempt while playing with the greatest quarterback of all time (Tom Brady), you've gotta do it.
Roasted Turkey – LOVE the name. But let's talk about that draft…
Things started off super positive with her 1st round selection of Austin Ekeler. But then the stunner of all stunners in the 2nd — Roasted Turkey selected division rival Lamar Jackson over the hometown hero Joe Burrow. WHAT?! Maybe this is when the edibles kicked in because after that she went with 45 year old Keenan Allen as her WR1 and then went WAAAAAY down the draft board to select her WR2, Gabe Davis. She spent the rest of her draft reaching for backup running backs and WR3s. A projected 7-7 record feels about right for this team of mediocrity.
In DUSK we TRUSK – How did this league let Bijan Robinson fall to the 8th pick? What a steal! GREAT draft, no notes!
The Better Turkey – Can't do much better than starting your draft with Justin Jefferson. The Better Turkey spent much of the draft finding value at all positions. Until it was time to select a quarterback, that is. Anytime you can select a rookie quarterback who completed under 54% of his passes his last season in college to lead your team, you've GOTTA do it!
Badabing 2.0 – Late to the party. South gonna south. The crow flies at midnight. All your base are belong to us. Robert got Mary and that's literally all I know. <Butterfly Gif>
Loney and Phoney do Football – More like Loney and Phoney do miss the playoffs…
This team is LOADED at WR. Ceedee Lamb and Garett Wilson might be the best duo in the league and you could probably say the same for his top 4. Unfortunately Loney's best running back isn't allowed around his own team for the first three weeks of the season. Fitting, given the nature of the team's renegade owner. And has only has one running back that will get a carry in week one. Bold strategy, Cotton!
That's all for this week! We'll cover the other half of the league next week before the full NFL season kicks off. In the meantime, hope you enjoy this weekend of college football as much as I will. Hook 'em!
F.U.D News Staff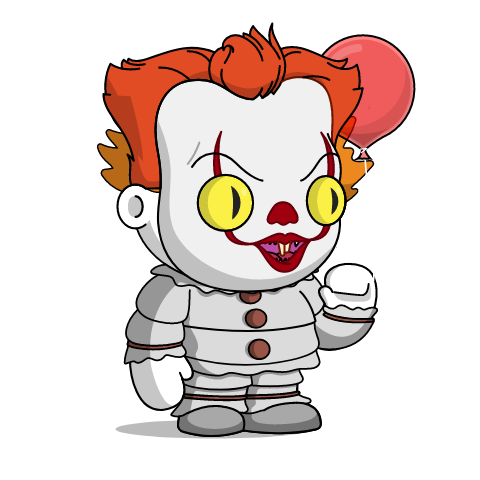 Pennytar- Founder & CEO
Straight from the circus, he was just clowning around one day online and stumbled into this wacky, low budget, and sarcastic news outlet.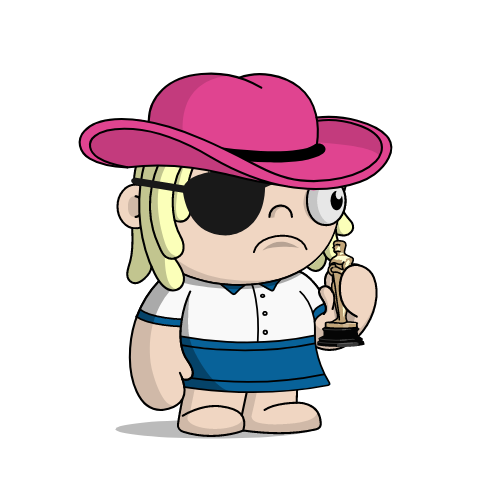 J. Peterman- Chief Sarcasm Officer (CSO) / Fashionista
Once a top level executive at a clothing catalogue company, she finds herself here after an epic fail of an invention. The Urban Sombrero bankrupt the company in spectacular fashion. She now takes sarcastic jabs at outfits worn by flovatars with a better fashion sense than her.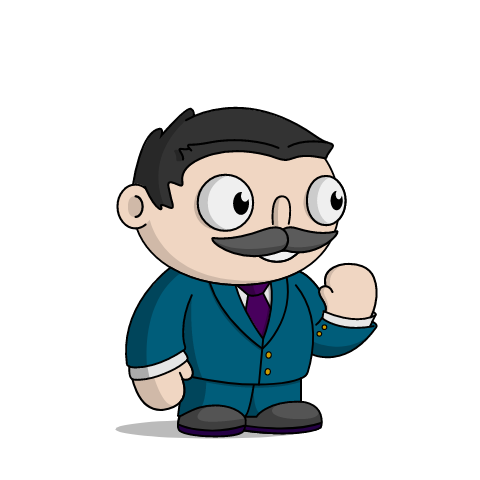 Ron Flogundy- Lead Anchor
After being fired from a reputable news source, Ron found his way into the F.U.D News room. He gave the media outlet a look of credibility when there was none.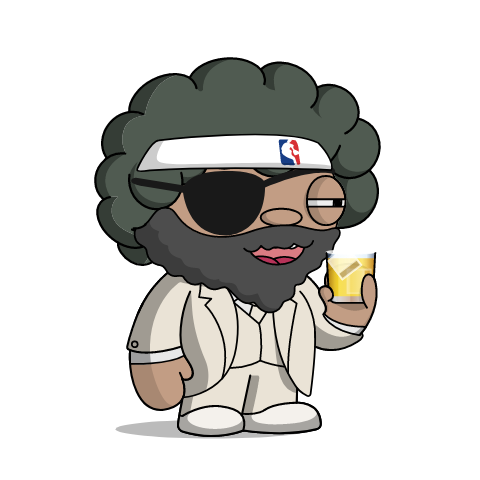 Füch Faće McGee– Head of Sportsball Division/Flovalympic Reporter
This Bulgarian-Irish born sports genius made a name for himself by having 1 too many whiskeys while trying to interview the Irish rugby team after a loss and causing a locker room brawl. Naturally, was a must hire for F.U.D.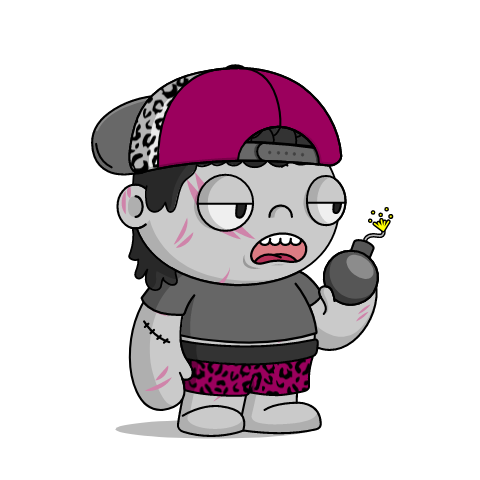 Kid Chaos- Resident Movie/Horror Correspondent
Not sure where this mysterious dude came from, he kinda showed up out of the shadows. If you need any movie or horror input, he's your guy. Just don't get too close to him or make any sudden movements.